GreenRope Sits Alongside Some of the CRM and Marketing Automation Industry's Biggest Players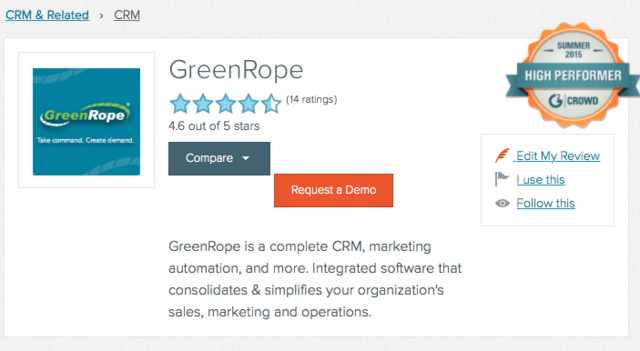 SAN DIEGO, CALIFORNIA – July 23, 2015
– GreenRope, a leading CRM and marketing automation platform, was recently named a '2015 High Performer' for CRM and marketing automation software in G2 Crowd, as well as a "Top 20 Most Promising CRM Solution" by CIO Review. GreenRope's integrated platform makes even the smallest business feel large and in control of its sales and marketing.
"The fact that GreenRope is being named as a top CRM and marketing automation platform alongside some of our much larger competitors speaks volumes for the platform and its capabilities," explains Alessandra Ceresa, Marketing Director at GreenRope. "We have taken on no outside funding, but have managed to build a system that our customers love and helps grow their businesses."
CIO Review shortlisted GreenRope as one of the "Top 20 Most Promising CRM Solutions of 2015," which demonstrates GreenRope's growth and influence in the industry during the past year.
The company is increasingly being put on the same playing field as some of the larger companies in the space, including HubSpot, Marketo and Pardot. GreenRope's dedication to providing cutting-edge technology and top-notch support, along with the team tenacity show how a small company can compete and succeed.
View GreenRope on G2 Crowd.
About GreenRope
Lars Helgeson, who saw the need to make running a small to mid-sized business easier and more efficient, founded GreenRope. GreenRope's mission is to resolve the challenges of managing business operations by providing cloud-based integrated software that is effective, affordable, and user friendly. GreenRope streamlines key operations, including e-commerce and accounting, CRM, email marketing, mobile marketing, calendaring, websites, social media and more, into one easy-to-use platform. By using GreenRope, companies can reduce their marketing and CRM software expenses by an estimated 80%. GreenRope's affordable pricing plans start as low as $149/month. Visit
www.greenrope.com
for more information.