Acnodes' 24 Inch Full FD Panel Mount Quad Display Monitor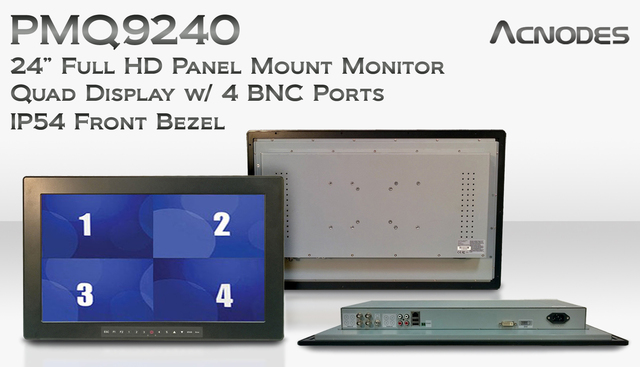 July 24, 2015 - Acnodes Corporation, a quality provider of industrial grade computers, today announces the PMQ9240, a 24-inch panel mount monitor. This monitor supports a quad display with DVI port and 4 x BNC ports, is designed specifically for the security industry. The monitor allows all of the 4 x BNC video input channels to appear simultaneously via full screen, picture by picture or picture in picture mode. It automatically detects and displays the correct video format (NTSC or PAL) and it offers on-screen display that allow users to adjust its display characteristics or select viewing options. The PMQ9240 supports 1920 x 1080 pixels full HD resolutions with 16.7 million colors, with an option for 800-nit sunlight readable display at a contrast ratio of 5000:1, allowing users to see a true representation of content. This monitor also features 178° wide viewing angles, so the image will be clearly visible from any viewpoint.
The PMQ9240 comes with an ultra slim profile with only 2.60 inch depth and supports panel mounting. It enables easy installation in extreme and space-constricting environments. Acnodes has also kept in mind the industrial aspect of the panel mount monitor. The PMQ9240 is made with a robust mechanical design, has an IP54 rated front bezel to protect against dust and water, and supports a wide operating temperature from 23°F to 131°F (-5°C to 55°C). With a 24 inch high image quality LED backlight LCD, 4 BNC ports for connecting CCTV equipment, audio input and speaker in a rugged enclosure, Acnodes makes the PMQ9240 an optimal solution for multi-channel video surveillance systems.
For more information on PMQ9240, please visit
http://www.acnodes.com/security-surveillance-rack-mount-monitor/PMQ9240.htm
For a full spectrum of Acnodes' CCTV Monitors, please visit
http://www.acnodes.com/security-surveillance-rack-mount-monitor.htm
Our product line configurations are illustrated on our web site at Acnodes.com. However, most of the rackmount and industrial monitors are custom built to customers' exact requirements. Contact us via e-mail:
info@acnodes.com
or telephone (1-909-597-7588) for more information.
Acnodes manufactures, designs, and markets industrial computers and display solutions for diverse industries ranging from automation to military. We have an array of technological innovations in the area of rack mount servers, embedded computers, Panel PC's and rugged monitors that create simpler and more valuable products to the customers. We work closely with our clients to customize computer products to meet their required projects and challenges. Acnodes strives to explore new technologies to better improve life and work.
Email Acnodes Corporation
Attachments