3M Bair Hugger Lawsuit Website Launched by Bernstein Liebhard LLP, In light of Post-Operative Infection Concerns Allegedly Linked to These Devices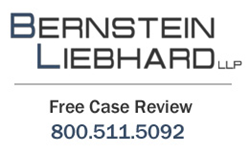 July 25, 2015 - Bernstein Liebhard LLP announces the launch of
http://www.3mbairhuggerlawsuit.com/
, a new website intended to provide the public with updated information regarding the alleged association between the use of forced air warming blankets, such as the 3M Bair Hugger, and the development of post-operative infections in hip and knee replacement patients.
"Hip and knee replacement patients who have filed forced air warmer lawsuits have allegedly experienced infections severe enough to warrant repeat surgeries, including replacement of their artificial joint and even amputation. Our Firm thought it was important to create an online resource to provide the public with up-to-date information regarding this litigation," says Sandy A. Liebhard, a partner at Bernstein Liebhard LLP, a nationwide law firm representing victims of defective drugs and medical devices. The Firm is seeking to hear from individuals who developed serious post-operative infections following artificial joint surgery that involved the use of the 3M Bair Hugger forced air warming system.
3M Bair Hugger Lawsuit Allegations
- Forced air warmer blankets are used during surgical procedures to ensure that a patient's body temperature remains at an optimal level. According to court documents, a case currently pending in the U.S. District Court, District of Kansas claims that the 3M Bair Hugger system was responsible for the MRSA infection suffered by the Plaintiff in the wake of knee replacement surgery. The complaint alleges that the device allowed hot air to accumulate under the surgical drape and escape below the level of the surgical table. This escaped air allegedly created warm, rising, airflow currents that deposited bacteria from the floor of the surgical room into the surgical site. As a result of his infection, the Plaintiff underwent amputation of his leg. (Case No. Case 2:14-cv-02044)
A second 3M Bair Hugger lawsuit currently moving forward in U.S. District Court, Southern District of Texas, claims that the device was responsible for the deep-joint infection suffered by a 70-year-old hip replacement patient. According to that complaint, the Plaintiff ultimately underwent 15 additional surgeries, including revision of his artificial hip, due to the infection. (Case No. 4:13-cv-01164)
Individuals who were diagnosed with a post-operative infection following hip or knee replacement surgery that involved the use of a forced air warming blanket may be entitled to compensation for medical bills, lost wages, pain and suffering, and more.
To learn more
about filing a 3M Bair Hugger lawsuit, please visit Bernstein Liebhard LLP's website, or call the Firm directly at 800-511-5092.
About Bernstein Liebhard LLP
- Bernstein Liebhard LLP is a New York-based law firm exclusively representing injured persons in complex individual and class action lawsuits nationwide since 1993. As a national law firm, Bernstein Liebhard LLP possesses all of the legal and financial resources required to successfully challenge billion dollar pharmaceutical and medical device companies. As a result, our attorneys and legal staff have been able to recover more than $3 billion on behalf of our clients. The Firm was named by The National Law Journal to the Plaintiffs' Hot List, recognizing the top plaintiffs firms in the country, for 12 consecutive years. Bernstein Liebhard LLP is the only firm in the country to be named to this prestigious list for a dozen consecutive years.
Bernstein Liebhard LLP
10 East 40th Street
New York, New York 10016
800-511-5092
ATTORNEY ADVERTISING. © 2015 Bernstein Liebhard LLP. The law firm responsible for this advertisement is Bernstein Liebhard LLP, 10 East 40th Street, New York, New York 10016, 800-511-5092. Prior results do not guarantee or predict a similar outcome with respect to any future matter.
Contact Information:
Sandy A. Liebhard, Esq.
Bernstein Liebhard LLP
info (at)consumerinjurylawyers(dot)com
http://www.3mbairhuggerlawsuit.com/
https://plus.google.com/115936073311125306742?rel=author
Email 3m Bair Hugger Lawsuit Center