Mirena IUD Lawsuit Attorneys at Bernstein Liebhard LLP Discuss Recent Study Linking Levonorgestrel-Releasing IUDs to Idiopathic Intracranial Hypertension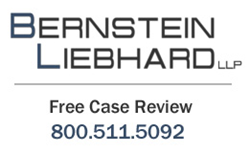 July 28, 2015 - As Mirena IUD lawsuits (
http://bl.themirenalawsuitcenter.com/
) mount in courts around the U.S., Bernstein Liebhard LLP notes that a study published earlier this year suggested that exposure to a levonorgestrel-releasing IUD was significantly associated with the development of idiopathic intracranial hypertension, a serious brain injury which can lead to chronic headaches and blindness.
The research
, which was presented at the 2015 annual meeting for the Association for Research in Vision and Ophthalmology, looked at insurance data on thousands of women, as well as information regarding contraceptive histories obtained via phone interviews with eligible participants. The data revealed that the prevalence of idiopathic intracranial hypertension was .18% among those who had been exposed to a levonorgestrel-releasing IUD versus .02% among non-IUD users.
"The release of this study comes as thousands of women pursue Mirena lawsuits for serious complications allegedly related to migration of the device. These recent findings are intriguing, and certainly suggest that these other types of injuries need further study," says Sandy A. Liebhard, a partner at Bernstein Liebhard LLP, a nationwide law firm representing the victims of defective drugs and medical devices. The Firm is actively filing claims on behalf of women who were allegedly harmed by the Mirena IUD, and are currently offering free and confidential case evaluations to anyone who may have suffered complications that occurred after use of the contraceptive implant.
Mirena Litigation
- The Mirena IUD was brought to market by Bayer Healthcare Pharmaceuticals in 2000, and is now approved as both a contraceptive and as a treatment for heavy menstrual bleeding in women who wish to use an IUD for contraception. The device is implanted into the uterus by a healthcare provider, where it emits a low dose of levonorgestrel, a synthetic progestin, for up to five years.
Court documents indicate that more than 3,000 women have filed Mirena lawsuits over uterine perforations, infertility, organ damage and other complications allegedly associated with spontaneous migration of the IUD. At least 2,176 such cases are currently pending in a multicounty litigation now underway in New Jersey's Bergen County Superior Court, where Bernstein Liebhard LLP is currently representing clients. (In Re: Mirena Litigation; Case No. 297) An additional 1,182 cases that put forth similar allegations regarding spontaneous IUD migration have been filed in a federal multidistrict litigation now underway in the U.S. District Court, Southern District of New York. (In re: Mirena IUD Products Liability Litigation, MDL No. 2434)
In addition, a number of Mirena lawsuits have been filed in U.S. courts on behalf of women who allegedly developed idiopathic intracranial hypertension due to the levonorgestrel emitted by the device. This serious disorder results from increased pressure in the brain due to the accumulation of cerebrospinal fluid. The condition is also known as pseudotumor cerebri because its symptoms mimic those of a brain tumor. Court records indicate that a group of plaintiffs filed a petition with the U.S. Judicial Panel on Multidistrict Litigation in 2014 seeking the consolidation of all federally-filed Mirena brain injury lawsuits in a single jurisdiction. However, the Panel declined to do so at that time. (In RE: Mirena IUD Levonorgestrel-Related Products Liability Litigation, Case No. 2559)
Alleged victims of Mirena complications related to spontaneous IUD migration or idiopathic intracranial hypertension may be entitled to compensation for medical bills, lost wages, pain and suffering, and more.
To learn more
about Mirena brain injury lawsuits and other claims involving this IUD, please visit Bernstein Liebhard LLP's website, or visit the Firm's Facebook page:
https://www.facebook.com/mirenalawsuithelp
. For a free legal consultation, please call 800-511-5092.
About Bernstein Liebhard LLP
- Bernstein Liebhard LLP is a New York-based law firm exclusively representing injured persons in complex individual and class action lawsuits nationwide since 1993. As a national law firm, Bernstein Liebhard LLP possesses all of the legal and financial resources required to successfully challenge billion dollar pharmaceutical and medical device companies. As a result, our attorneys and legal staff have been able to recover more than $3 billion on behalf of our clients. The Firm was named by The National Law Journal to the Plaintiffs' Hot List, recognizing the top plaintiffs firms in the country, for 12 consecutive years. Bernstein Liebhard LLP is the only firm in the country to be named to this prestigious list for a dozen consecutive years.
Bernstein Liebhard LLP
10 East 40th Street
New York, New York 10016
800-511-5092
ATTORNEY ADVERTISING. © 2015 Bernstein Liebhard LLP. The law firm responsible for this advertisement is Bernstein Liebhard LLP, 10 East 40th Street, New York, New York 10016, 800-511-5092. Prior results do not guarantee or predict a similar outcome with respect to any future matter.
Contact Information:
Sandy A. Liebhard, Esq.
Bernstein Liebhard LLP
info (at)consumerinjurylawyers(dot)com
http://bl.themirenalawsuitcenter.com/
https://plus.google.com/115936073311125306742?rel=author
Email Mirena Lawsuit Center