Software Tech Agency itr8group Headquartered in Two Top 10 Cities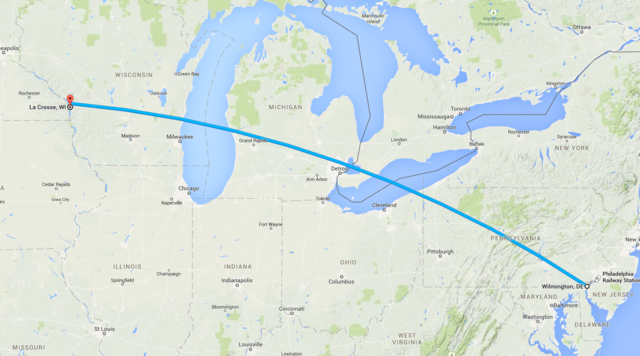 July 28, 2015 - itr8group (
itr8group.com
), a full service software tech agency which launched June 2014, took a bet on two small cities which are unlikely compatriots for their dual-headquarters: Wilmington, Delaware, and La Crosse Wisconsin. 1000 Miles apart, these two budding tech communities just made the
Top 10 Small Cities To Start A Business
list by NerdWallet.com.
"A year ago I decided that Wilmington was worth putting some roots down" says itr8group co-founder Rory Laitila: "It was the revitalization of the Creative District in Wilmington's downtown LOMA district that really gave me the confidence. Now I see positive changes around every corner."
Entrepreneur Magazine cited
Nerd Wallet's Cindy Yang: "While bigger cities have more businesses, they don't have bigger businesses. It's the businesses in smaller, surrounding towns that tend to have higher revenue and a higher propensity to have paid employees while enjoying the lower cost of living." This couldn't be more true than for itr8group co-founder Adam Steele, of La Crosse Wisconsin who says: "I moved back to La Crosse to be close to family, but I soon found out that the local network of small and medium businesses was great for building itr8group." La Crosse has seen tremendous growth in the local startup community, with a new co-working space through
CouleeCo.com
and new residential, retail and office developments recently announced
itr8group, which builds software, manages teams, and consults for CEOs, entrepreneurs and other leaders on software development & strategic planning, has built its business on the relationships and needs that growing companies engender in these two up and coming cities. As Rory said while giving a presentation to business leaders and tech innovators at the July DE Tech Meetup hosted by the Loft at
Start it Up Delaware
: "This town is a story of collaboration. Two of my biggest customers
Carvertise.com
and
Cnverg.com
are themselves a product of Wilmington, and we're building up together."
itr8group hopes that the recognition from Nerdwallet.com, Entrepreneur.com and other publications starts to highlight the potential for towns like Wilmington and La Crosse, potential which often goes overlooked. "It was a pleasant surprise to see both of our headquarter locations in the top 10" says Rory, "A lot of work has gone into these communities by builders, entrepreneurs, civic leaders and non-profits."
One of those builders, Buccini/Pollin Group (BPG), a real estate development firm headquartered in Wilmington, has invested considerably in Wilmington, with new residential, commercial and entrepreneurial initiatives in the downtown corridor. One of BPG's properties, MKT, is key to the success. BPG Property Manager Megan Rosenberg who is leasing dozens of new units right on Market St, has said of the revitalization: "Its exciting to see new energy in an area that has been overlooked for so many years. We've already seen a great response and excitement from people from all walks of life that are looking for a different urban scene. With five BPG projects underway in Downtown Wilmington, we're really invested in this community, and the community has accepted us with open arms."
itr8group is excited to see what is next for their unlikely twin cities. With new co-working space, incubators, residents and businesses investing in these cities, the potential only seems to be increasing.
To learn more about itr8group visit us at
http://itr8group.com
About itr8group:
itr8group is a business & software development agency offering business strategy consulting, software development, and product development services to tech-focused companies who consider software a core part of their competitive edge. Itr8group has built a track record delivering measurable improvement to business processes and software solutions.
press@itr8group.com