The Christian Baby Outlines What You Need to Know Before Planning Your Child's Christening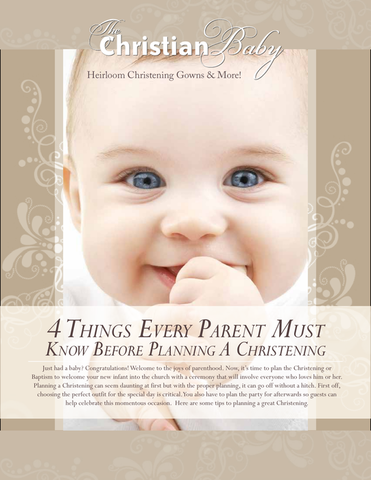 August 1, 2015 - As parents dedicated to the faith, arranging for a christening is one of the biggest steps towards bringing up our children in the way of Christ. However, planning this special ceremony doesn't come without its fair share of stresses. Eliminate the worries of planning this momentous occasion with guidance from The Christian Baby.
Specializing in the sale of high-end christening gowns and suits from the best designers around, The Christian Baby is your one-stop shop for all your Christening day style needs. Our team knows just what you need to make your child's christening ceremony an unforgettable experience for everyone involved.
Whenever you start planning for your child's special day, the first step is to choose the perfect outfit for your newborn son or daughter. Choosing your child's christening outfit is an extremely personal experience, and no matter if you go traditional or modern with your child's outfit.
Throughout the planning process, it's important to keep in mind that this is a time of celebration and joy. While it's easy to become overwhelmed in the planning process, be sure to take a step back every now and then, enjoying the ceremony for the truly special occasion that it is.
With this in mind, choosing the perfect party venue for after the ceremony is one way to help you collect and capture all the memories of your child's first step towards Christ. Before choosing a venue, make sure you do plenty of research to help you determine the venue that will best suit your newborn and your guest.
While often overlooked, decorating your party venue space or home is the perfect way to capture the purity and holiness of your child's christening ceremony. Whether you make it personal or go with traditional white and dainty Baptismal decorations, choosing the right decorations can help everyone in attendance remember the special day for years to come.
Unlike other holidays, anniversaries and special occasions, your child's christening only happens once. Make sure it's one you will remember for years to come by visiting
http://www.thechristianbaby.com/offers/index.php
.
Start planning the perfect christening for your son or daughter by shopping the collection of heirloom christening gowns and designer christening suits from The Christian Baby. No matter if you go long or short, modern or traditional, The Christian Baby carries just the right christening outfit for your little one. Start your search for the perfect christening outfit by visiting
www.thechristianbaby.com
.