Keep Your Pipes Clear of Clutter & Debris with Camera Inspection Services from Mister Sewer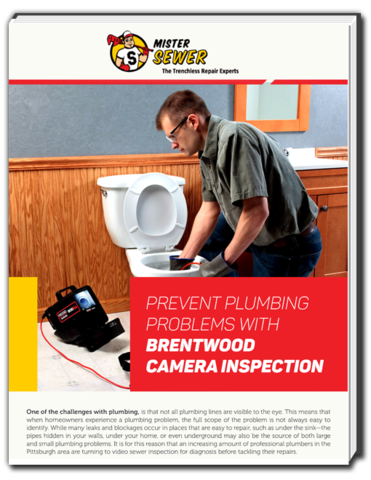 August 4, 2015 - In the past few years, camera sewer inspection has become one of the most valuable tools in a Pittsburgh plumber's tool belt. Discover how this new service can keep your home's plumbing running in tip-top shape with help from Mister Sewer.
For over 25 years, Mister Sewer has provided their exceptional plumbing services all across the Pittsburgh area. With a reputation built on excellence and prompt service, Mister Sewer knows just what your plumbing and sewer pipes need to perform up to par all year round.
Using their state-of-the-art waterproof sewer camera, the plumbing team at Mister Sewer is able to maneuver through your home's pipes with ease, quickly diagnosing the root of the problem before the work ever begins. These high-resolution cameras provide your Pittsburgh plumber with real-time video, helping them determine the next steps for accurate and efficient plumbing repairs.
Camera sewer inspection all but eliminates the guesswork when it comes to fixing all sorts of drain or sewer problems in the home. By locating the precise location of the problem at hand, your plumber will not waste your time or money with unnecessary digging or cutting, just fixing the pipes at the source of the problem.
Plumbing camera inspections allow you to save thousands of dollars in costly repairs, and most jobs can often be completed on the same day to have your home's pipes running smoothly once again and avoid annoying water shut-offs.
While sewer camera inspection services may not be the right solution for all of your home's plumbing problems, they can certainly help with some of the more common issues homeowners may encounter. From pesky root intrusions to clogged pipes caused by things falling down the drain, a video sewer inspection can help you determine just what's causing your plumbing problems and help your Pittsburgh Plumber come up with a definite answer to almost any issue.
If your home's water bill seems slightly higher than it should be, discover how sewer camera inspection may be the solution to your problem by visiting
http://mistersewer.com/offers/
.
No matter what your plumbing problem may be, the Pittsburgh plumbers at Mister Sewer have just the right tools to get the job done quickly and efficiently to save you time and money. Discover what has so many Pittsburgh homeowners turning to Mister Sewer again and again for all their household plumbing needs by visiting
mistersewer.com
.