What is the Story Lady Doing Now?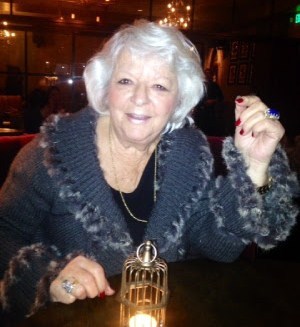 August 8, 2015 - San Diego, CA:
It's been over 35 years since Bill and Carol Baras were first inspired to start the Baras Foundation in 1978, and although times have changed, their good deeds haven't ceased to flourish through the foundation, or day-to-day activities within the San Diego community. During a recent sit-down with the 'Story Lady' herself, a beautiful story concerning the history and vision behind the Baras Foundation and 291-KIDS was shared, as well as visions and plans for the future of the foundation as they look for new and exciting ways to help change the lives of our community's future.
At 85 years old, Carol Baras is alive and well with the very spunk and character that helped her to create the beautiful life she now lives. A visit to her home is like taking a trip into a real story book, with tales of San Diego past, and a picture painted as to what the city looked like before all of the high rises and corporate sprawl inhabited it.
Just as the city has changed and evolved over time, so has Carol's life work, as she and her husband once owned a popular night club in Pacific Beach called Mom's Saloon. A place that was only open during the evening, and was always busy. Bill Baras attributed this to the fact that the prettiest girls in San Diego visited the club, as they had tight security which made them feel safe. Despite the irony of owning a bar, Bill and Carol Baras felt a strong urge to give back to the community and work toward enriching the lives of others. Thus, Hypnos Morpheus was born in North Park in 1968, before moving to Mission Valley in 1970, where it remained until 1987.
Hypnos Morpheus was the brainchild of Carol and Dr. Baras; designed to help others use self-hypnosis to make positive changes in their lives. This project earned national acclaim and Bill and Carol began traveling the world giving self-hypnosis seminars over the next 25 years, after the sale of Mom's Saloon. It was at the end of this adventure that they settled back down in San Diego and decided it was time for a new brain child in helping others, but they weren't quite sure yet as to what this new adventure would be until Carol met a young boy.
It was a busy afternoon in 1979, and Carol Baras wanted to run into a small convenience store to buy some groceries. It was then that she saw a little boy sitting on the curb crying. Carol walked over to the boy and sat down next to him, and asked him what the problem was. The little boy told Carol through tears that he was told to sit outside, and couldn''t come into the store because he was a "bad boy." This gave Carol an opportunity to help, and she took advantage of it. With the power of self-hypnosis she told the boy in her soothing voice that he was pretty lucky to get to sit outside because he could soak up the sun and watch the cars go by. It wasn't much longer, 90 seconds in fact, that the boy was laughing and smiling, and Carol Baras was on her way running errands again.
This little boy, however, stayed on Carol's mind as she continued on her way. She thought to herself that if she was able to change that boy's world around in 90 seconds, well, what if she could help many other sad and lonely children in 90 seconds as well? Thus, 291-KIDS was born - a story-line where children just like the sad boy on the curb could call and receive a positive message from the 'Story Lady' designed to brighten up their day in just 90 seconds.
Carol now had her plan and her vision, but she needed to find a way to fund it, thus, the Baras Foundation thrift stores were born in 1993. Over the next ten years the Baras Foundation opened 9 stores and supported hundreds to thousands of lonely children in the community for the betterment of the world. These children are our future, and many were saved from going down the wrong path in life through these positive daily interventions.
Children who are abused are statistically inclined to repeat the cycle of violence, and through the implementation of daily 'Story Lady' calls, Carol Baras was hearing stories of abused children who'd been stuck in the system ending their cycles of violence and working toward positive changes in their lives. This has been a great accomplishment which Carol doesn't want to end. The media was touched by this success as well, and Carol appeared on "Good Morning America" as David Hartman's featured guest, the "Today Show", "Hour Magazine" and many other TV shows-as well as radio and newspaper interviews nationwide.
So, just what exactly is the 'Story Lady' doing now? Well, she's still running the Baras Foundation, which has reduced its number of stores for purposes of management after the passing of Bill Baras in 2004. The original Hillcrest location is still open and has been running now for 22 years. Carol is also a big philanthropic supporter of charities and scholarship funds for children in the community.
Carol still receives letters today from mothers and fathers who used to call into 291-KIDS, asking her to keep it going, as they'd like to have this service for their own children today. Carol believes that in keeping up with the changing times, 291-KIDS is in need of some fresh new stories that are applicable for children today, and perhaps the option of an APP that can allow users to download the stories, rather than calling in. She also wants to contact junior and senior high school students to write new stories for the KIDS line, paying $50 for each 60 second story that is accepted. There's still much work to be done toward the future reintroduction of 291-KIDS, and it looks like it could just be bigger and better than ever before.