Fight Off the Effects of Hard Water Damage with Help from Tudi Mechanical Systems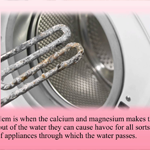 August 12, 2015 - Hard water in the home is almost unpreventable, but knowing how to fight off its effects may just save you hundreds in appliance replacements and plumbing repairs. Make sure you know how to keep your home's water as clear as can be with a little help from Tudi Mechanical Systems.
For nearly 30 years, Tudi has helped thousands of homeowners throughout the Pittsburgh area repair all sorts of plumbing problems to help keep their home in working order for year-round comfort and efficiency.
According to the Water Quality Association, hard water is found in 85% of all residential plumbing systems across the country. While most homeowners are aware of the smudges and marks it will leave behind on dishes and glassware, few people understand just how damaging hard water can be for your home's plumbing system.
When the water evaporates, the calcium and magnesium left behind combines to form a mineral deposit that can quickly clog up your pipes, faucets, showerheads and other plumbing fixtures in the home. If you notice a spike in your home's water usage, these mineral deposits may be to blame.
One of the first things you can do to prevent your home from the problems caused by hard water damage is to determine how serious the problem is. Using a method called The Lather & Froth Test, you can easily test the water all throughout your home to find out the severity of the problem. Simply pour some dish soap into an empty sink and lather lightly. If the water is soft, you should begin to see a froth rather quickly, while harder water will require a more vigorous lathering.
If the water in your home is hard, you'll likely start seeing buildup around your home's plumbing fixtures and appliances. However, it's important to recognize that even if you scrub off these deposits there could be much more severe damage and blockages happening in the pipes themselves.
Most professional plumbing services recommend having your home's pipes checked for hard water damage at least once per year. These yearly maintenance checks are the key to avoiding any unnoticed hard water damage areas in the home.
Make sure you're on top of your home's potential hard water issues with help from the expert plumbers at Tudi by visiting
http://info.tudi.com/blog/understanding-the-effects-of-hard-water-damage-video
.
Keep your home's pipes, drains and plumbing fixtures performing up to par all year-round with a little help from the team of Pittsburgh Plumbers at Tudi Mechanical Systems. Using state-of-the-art diagnostic equipment and with years of knowledge on their side, Tudi's plumbers can handle it all from small fixes to significant repairs. Discover how Tudi can keep your entire home running at maximum efficiency by visiting
www.tudi.com
.
Email Tudi Mechanical Systems