Getaway to Kawartha Lakes with Some Help from The Maritime Explorer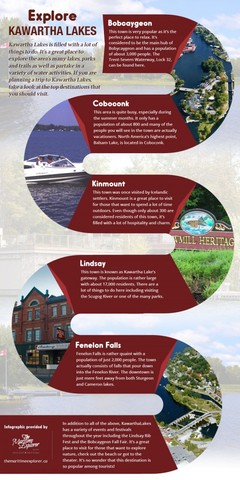 August 12, 2015 - Tucked away just 90 minutes northeast of Toronto's bustling metropolitan area is the quaint Kawartha Lakes, making it the ideal adventure getaway for travelers young and old. Discover just all there is to see and do in the "land of shining waters" with a little help from the Maritime Explorer.
No matter if you prefer adventure or leisure on your trip, Kawartha Lakes offers it all with its pristine waters, winding rivers and no end of water activities to take part in. Whether it's a weekend getaway or a weeklong retreat, there is no end to the charm and relaxation of Kawartha Lakes.
If you're considering a trip to the lakes, start planning your trip with some help from Canada's own Maritime Explorer, Dale Dunlop. As a seasoned traveler always seeking out the thrill of adventure, The Maritime Explorer offers travelers new and old advice and tips on some of the world's most well-known locations and hidden gems alike.
No trip to the lakes is quite complete without a stop in Bobcaygeon. Considered the main hub to the lakes, Bobcaygeon is the perfect place to relax and unwind after a long day out on the water. After your break in Bobcaygeon, stop by the vacationer's paradise of Coboconk with a trip to Balsam Lake Provincial Park.
If the hustle and bustle is what you're after, stop by the town of Lindsay! With much to see and do, Lindsay is a popular destination for guests of all ages, providing a unique culture, rich heritage and a variety of events happening throughout the year.
After a busy day in Lindsay, check out the endless opportunity for rest & relaxation with a trip to Fenelon Falls. A quaint town of just over 2,000 people, the Falls offer stunning sights and make for an excellent way to unwind and escape from it all.
Kawartha Lakes is filled with activity suited for almost all interests. Start planning your lakeside getaway today by visiting
http://themaritimeexplorer.ca/2015/07/14/explore-kawartha-lakes-infographic/
.
If you're looking for some added motivation to get out there and embark on your own grand adventure, look no further than the travel writings from The Maritime Explorer. Whether you're looking for inspiration to get you started or tips to better plan your next trip, The Maritime Explorer offers it all through his travel and adventure writings. Follow along on his latest journey and tales by visiting
themaritimeexplorer.ca
.
Email The Maritime Explorer