The Law Office of Mahmoud R. Rabah Guides Clients Through License Suspensions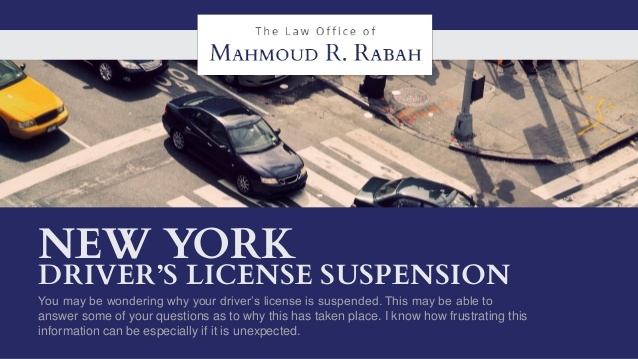 August 12, 2015 - Each day, hundreds of New York City drivers find themselves facing the consequences of their mistakes and mishaps on the road. One of the most common penalties for these actions is having your license suspended. Discover what a suspended license might mean for your record with help from criminal defense attorney Mahmoud R. Rabah.
The first major step forward with your license suspension is to understand why it is you have earned your license suspension. There are several reasons as to why your license may have been taken away, with the most common being repeated traffic violations or unpaid traffic tickets.
Depending on the reason for your suspension, the New York Department of Motor Vehicles will impose different restrictions to your license suspension. There are four types of suspensions in the state of New York that you can face – being indefinite suspensions, definite suspensions, traffic accident suspensions and out-of-state ticket suspensions.
The first step to getting your license back is to meet with an experienced New York criminal defense attorney who can help you determine your next steps. Sometimes, a criminal defense attorney in Queens or elsewhere in New York City can help reduce your fees or even eliminate them altogether.
It's important to note that all states have different rules and regulations when it comes to having and driving with a suspended driver's license. If you are new to New York, or moving to the area in the near future, make sure you take the time to understand all of the New York Department of Motor Vehicles rules and regulations to help you stay safe on the road while avoiding costly penalties and fees.
If you feel you have been wrongfully issued a traffic violation in the New York City area, visit
http://rabahdefense.com/news/new-york-drivers-license-suspension-slideshow/
for advice on what next steps you should take.
No matter what legal issues you find yourself facing, contact the Law Office of Mahmoud R. Rabah. A proven champion both in and out of the courtroom, Mr. Rabah has helped hundreds of clients with traffic violations, license suspensions and much more. Make sure your rights are protected every step of the way by visiting
rabahdefense.com
.
Email The Law Office of Mahmoud R. Rabah