Discover Why Now is the Time to Mobilize Your Business with Help from JENLOR Integrations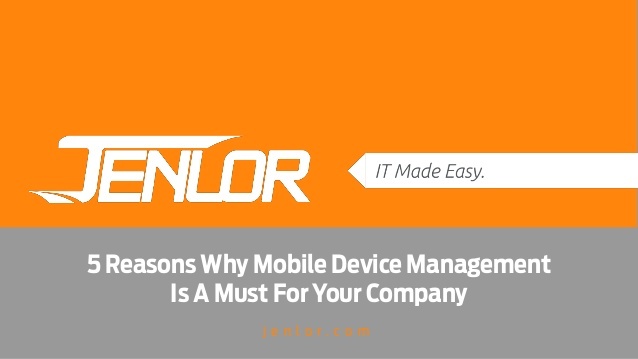 August 13, 2015 - In today's business environment, there is no better way to keep your organization on top and your employees performing at their peak than mobile technology. Start mobilizing your business today with help from the mobile device management experts at JENLOR Integrations.
While there is no denying the benefits of mobilizing your workforce, rushing to do so and failing to properly protect your brand can prove costly in the long run. That's why before you go mobile with your brand, you should take the time to make sure a mobile device management strategy is in place.
Mobile Device Management enables your employees to access all of your companies most protected and valuable data without risk, protecting your brand from costly hacks and data breaches that could prove to be detrimental to your company or even your customers.
Mobile apps are just one of the ways employees are staying productive both in and out of the office. However, many employees aren't waiting for their organization's IT department to give them the mobile apps and seeking them out on their own. That's why mobile device management is needed to help keep all of your team's go-to productivity apps under proper management and protection.
With the rise of BYOD policies in the workplace, many companies struggle to keep up with all the devices accessing their data, software and information. Keeping corporate data secure on your employee's personal devices doesn't come easily, but proper MDM can help keep your organization on top of all your devices.
A comprehensive MDM solution eliminates the struggle, seamlessly creating a support system that works across a range of operating systems, devices and ownership models that allows your company to regain control over your network and data.
Enterprise mobility can drastically boost your business across the board as long as you have the proper MDM strategies in place. Make sure your brand is set to take advantage of the productivity boosts mobility can provide by visiting
http://www.jenlor.com/5-reasons-why-mobile-device-management-is-a-must-for-your-company-slideshow/
.
Giving your team a mobile edge doesn't have to be difficult, so start simplifying your organization's IT department with help from the experts at JENLOR Integrations. With around-the-clock support capabilities and expert IT consulting services, JENLOR provides your organization with everything you need to get ahead of the competition. Discover how JENLOR can help your brand build its bottom line by visiting
www.jenlor.com
.
Email JENLOR Integrations, Inc.