Explore Some of Ireland's Best Kept Secrets With Help From The Maritime Explorer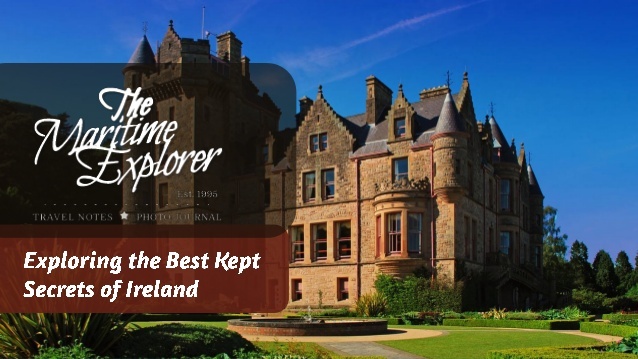 August 13, 2015 - Each year, hundreds of thousands of travelers make the trek to the Emerald Isle in hopes of embarking on the adventure of a lifetime. While the country is certainly full of well-known attractions, it is home to several hidden gems that are worth your while. Explore some of the best-kept secrets that Ireland has to offer with help from The Maritime Explorer.
Filled with luscious greenery and mythical lore around every corner, Ireland remains atop of the world's must-see travel destinations. While no trip can be quite complete with making your rounds through the Rings of Kerry or taking in all the sights from The Cliffs of Moher, there is still much to see and do after you've hit all the travel hotspots.
Located eight miles off the coast of Country Kerry, the island of Skellig Michael remains a land untouched by most travelers and tourists. Once on shore, travelers who dare to climb the nearly 600 thousand-year-old stone steps are treated to some remarkable architecture that dates as far back to the sixth century.
Travelers can also take a trip back to an older Ireland by making a trip to The Aran Islands. All throughout the three Aran Islands, Gaelic remains the most spoken language and horse & buggy the most common form of transportation, allowing travelers to experience Ireland as it once was centuries ago.
If mythological lore is what you seek, The Mourne Mountains are certainly a must. Used as the setting for HBO's Game of Thornes and as inspiration for the Chronicles of Narnia series, The Mourne Mountains can take travelers to a fantasy land filled with stunning forests, rivers and caves.
For those brave enough to cross, the Carrick-A-Rede Rope Bridge offers adventurers a truly remarkable sight that must be seen to be believed. Dangling nearly 100 feet over the rocky waters below, the bridge connects the mainland of the country to the island of Carrickarede.
Explore some of the country's most hidden gems and best-kept secrets more in-depth by checking out the latest slideshow from The Maritime Explorer at
http://themaritimeexplorer.ca/2015/08/07/exploring-the-best-kept-secrets-of-ireland-slideshow/
.
No matter if you're a seasoned adventurer or a first-time traveler, let The Maritime Explorer provide you with all the wisdom and travel advice you need to make the most out of your next getaway. Get started planning your next adventure by visiting
themaritimeexplorer.ca
.
Email The Maritime Explorer