Bernstein Liebhard LLP Now Evaluating Cook Beacon Tip Catheter Lawsuits On Behalf of Individuals Allegedly Injured By Recalled Angiograph Catheters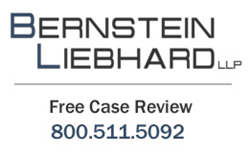 August 13, 2015 - The nationwide law firm of Bernstein Liebhard LLP is now evaluating Cook Beacon Tip Catheter lawsuits (
http://www.catheterrecallcenter.com/
) on behalf of individuals who may have been harmed by malfunctioning coronary angiograph catheters that were recently recalled by Cook Medical, Inc. According to a recall notice posted on the
U.S. Food & Drug Administration's (FDA)
website on August 3rd, the worldwide recall involves more than 95,000 catheters sold under the following brand names:
Torcon NB® Advantage Beacon® Tip Catheters (Catalog Prefix HNBR5.0)
Royal Flush® Plus Beacon® Tip High-Flow Catheters (Catalog Prefix HNR4.0)
Slip-Cath® Beacon® Tip Catheters (Catalog Prefix SCBR5.0)
"The FDA has deemed this a Class I recall, which indicates that the affected Cook Beacon Tip Catheters may cause serious injury and even death. In light of the devastating health consequences potentially associated with these devices, our attorneys thought it prudent to take steps to provide affected patients and their families with important information about their legal rights," says Sandy A. Liebhard, a partner at Bernstein Liebhard LLP, a nationwide law firm representing victims of defective drugs and medical devices. The Firm has launched a new website to provide the public with the most up-to-date information regarding the Cook Beacon Tip Catheter recall, and is now providing free, no-obligation legal reviews to those who may have been harmed by one of these coronary angiograph catheters.
Cook Beacon Tip Angiograph Catheter Recall
Cook Beacon Tip Angiograph Catheters are used to inject contrast dye into the blood vessels of the heart. This allows doctors to obtain detailed x-rays so that they may determine how well blood is flowing within the heart. According to the American Heart Association, coronary angiograph procedures are generally associated with a low rate of complications.
According to the FDA, the devices included in the Cook Beacon Tip Catheter recall may be vulnerable to splitting or separating at the tip. Tip splitting can result in loss of device function, while separation may occlude blood flow to end organs and require medical intervention to retrieve the separated section. Cook Medical has received 26 reports of tip splitting or separation related to these products, 14 of which resulted in adverse events. The FDA requires medical device manufacturers to report adverse events related to their products if they are considered serious, including those that result in hospitalization, permanent damage or disability, a need for medical intervention, or death.
Patients who experienced complications related to a malfunctioning Cook Beacon Tip Catheter may be entitled to compensation for medical bills, lost wages, pain and suffering and other damages.
To learn more
about filing a Cook Beacon Tip Catheter recall lawsuit, please visit Bernstein Liebhard LLP's website, or call 800-511-5092 to arrange for a free case review.
About Bernstein Liebhard LLP
Bernstein Liebhard LLP is a New York-based law firm exclusively representing injured persons in complex individual and class action lawsuits nationwide since 1993. As a national law firm, Bernstein Liebhard LLP possesses all of the legal and financial resources required to successfully challenge billion dollar pharmaceutical and medical device companies. As a result, our attorneys and legal staff have been able to recover more than $3 billion on behalf of our clients. The Firm was named by The National Law Journal to the Plaintiffs' Hot List, recognizing the top plaintiffs firms in the country, for 12 consecutive years. Bernstein Liebhard LLP is the only firm in the country to be named to this prestigious list for a dozen consecutive years.
Bernstein Liebhard LLP
10 East 40th Street
New York, New York 10016
800-511-5092
ATTORNEY ADVERTISING. © 2015 Bernstein Liebhard LLP. The law firm responsible for this advertisement is Bernstein Liebhard LLP, 10 East 40th Street, New York, New York 10016, 800-511-5092. Prior results do not guarantee or predict a similar outcome with respect to any future matter.
Contact Information:
Sandy A. Liebhard, Esq.
Bernstein Liebhard LLP
info (at)consumerinjurylawyers(dot)com
http://www.catheterrecallcenter.com/
https://plus.google.com/115936073311125306742?rel=author
Email Catheter Recall Information Center