Ocean Point Resort & Spa Outlines Miami's Must-See Attractions for First-Time Visitors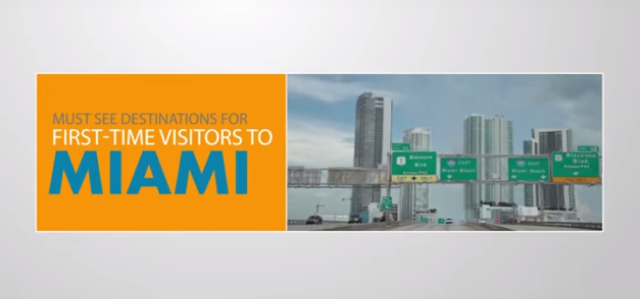 August 18, 2015 - If your ideal vacation includes soaking up the sun, catching some waves and immersing yourself in a truly eclectic atmosphere, a Miami Beach getaway may be perfect for you. Check out some of the must-see sights and sounds on your first trip to Miami with help from the Ocean Point Resort & Spa.
Drawing over 14 million visitors each year, the city of Miami is truly something special. Whether you're traveling with the family or looking for a romantic getaway, hoping to hear the sounds of the ocean or dance the night away, there is also fun and excitement awaiting you in Miami Beach.
For starters, if you're coming to Miami you absolutely must check out at least one of the city's dozens of oceanfront beaches. Each beach offers a little something different, from family friendly to party atmosphere, so be sure to catch some sun at least once during your Miami hotel stay.
Miami's many beaches aren't the only opportunity to spend some time in the great outdoors, however. Escape the hustle and bustle of city life with a trip to Biscayne National Park, or take some time exploring the endless attractions at the Miami Seaquarium and Jungle Island.
Many travelers come to the city for its unique art districts. While the Art Deco district certainly captures tons of attention with its brightly colored pastel buildings and stunning style, the city's Design District is home to some of the nation's most dynamic and diverse art galleries and performance spaces.
Of course, no trip to Miami is complete without sampling the city's infamous Cuban cuisine. Stop by Little Havana for some of the best tasting Latin-inspired food you can find. No matter where you find yourself in the city, you are likely to get caught up in the energetic atmosphere that is unparalleled by all other travel destinations.
Just one trip to the city is all it takes to have you coming back time and time again. Check out all the sights and sounds to take in on your first stay at a Miami hotel by visiting
www.oceanpointresort.com/must-see-destinations-first-time-visitors-miami-video/
.
Start planning your next Miami getaway by booking your oceanfront accommodations with the DoubleTree by Hilton Hotel & Suites Ocean Point Resort & Spa. Featuring a private oceanfront beach and luxury suites, the Ocean Point Resort & Spa is a perfect way to escape the mundane. Discover for yourself what has so many travelers hooked on Miami by visiting
www.oceanpointresort.com
.
Email DoubleTree by Hilton Hotel & Suites DoubleTree Ocean Point Resort & Spa