Chicago Cubs To Host Historic Fire Truck From 9/11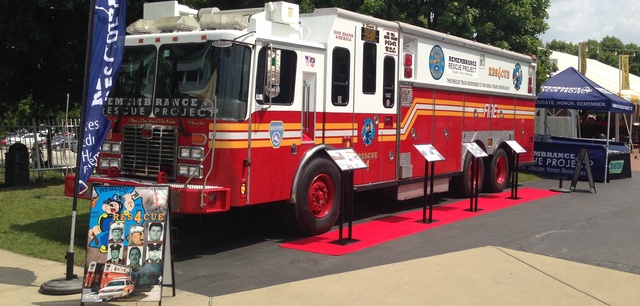 August 18, 2015 - The Chicago Cubs will play host to the Remembrance Rescue Project with former FDNY Rescue 4 from 9/11 on Thursday night to kick off a two month educational visit to the City of Chicago. The first stop in Chicago will be at Wrigley Field as the Cubs take on the Braves to celebrate Firefighter Appreciation Night on Thursday, August 20th. The historic fire truck from New York will be on display before the game at the iconic firehouse just outside the park at 1052 W. Waveland. Fans will have the rare opportunity to see, touch and learn from this piece of modern history, while also viewing a series of artifacts from Ground Zero.
"Our Special Group Nights give fans with shared interests the opportunity to enjoy a Cubs game and experience together, and we are so proud Firefighter Appreciation Night can include this meaningful educational visit from the Remembrance Rescue Project," said Cubs Vice President of Sales and Partnerships Colin Faulkner.
The Project involving former FDNY Rescue 4 and Rescue 5 is an educational effort focused at society, especially those who are too young to understand the events of September 11th and what that day means to members of the fire service and to the country as a whole. Following the Cubs game, the historic rescue truck will be placed on display at the Chicago Fire Academy with additional visits to area schools and community events. "We are excited to be able to share the Project with the City of Chicago and the Chicago Cubs fans", said John Kwasny, Project Firefighter.
Fans can come see the Remembrance Rescue Project with former FDNY Rescue 4 from 9/11 at the Wrigley Field firehouse before the game starting at 5pm. Tickets to the Cubs game and Firefighter Appreciate Night can be purchased at
http://www.cubs.com/groups
.
Email Remembrance Rescue Project