UK Car Discount - 2015 New Car Awards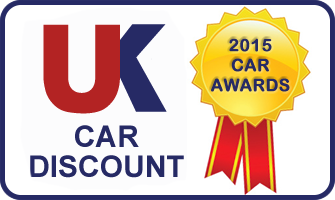 August 20, 2015 - Following the success of last years car awards UK Car Discount is proud to announce part 1 of it's 2015 New Car Awards. The awards are determined using a combination of valuable customer feedback and the opinions of our staff taking advantage of decades of experience.
Best Small Car - Hyundai i10
- The new Hyundai i10 is a superb city car. The latest incarnation of the i10 has improve quality inside, extremely generous cabin space for a small car in its class and is very economical. You also get the famous Hyundai 5 year warranty which isn't to be sniffed at! We like the 1.0 litre engine which is unbelievably quiet for a 3 cylinder engine. If you are undecided on which model to buy we recommend the Premium 1,0 model which offers a good level of equipment and as already mentioned we like the 1.0 engine.
We also like the Skoda Citigo which offers a surprisingly smooth drive, lots of model options and good value for money.
Best Supermini - VW Polo
- The VW Polo offers the build quality and comfort of the Golf and whilst is certainly not the cheapest supermini on the market we think its worth its price. VW gave the Polo a complete update in 2014 which we think gazumped its biggest rival the Ford Fiesta. And whilst the Fiesta is still Britain's bestselling car and is great fun to drive we really like the refinement and quality of the VW Polo along with its revised looks and so we think it pipped the Fiesta!
The Polo offers plenty of engine options with the most efficient being the 1.4-litre diesel capable of 83.1mpg. If you're not a fan of diesels, then the sporty BlueGT model might be an attractive proposition offering a sensible balance between performance and economy.
We think the entry-level S model is little short on equipment and recommend you look at least the SE model which offers air con, a multimedia touchscreen and 15 inch alloy wheels. At the moment the SE Design probably offers the best value for money with some sports styling touches and plenty of equipment.
Best Small Family Hatchback - Seat Leon
- The Seat Leon offers a solid build as you expect from a vehicle that uses a lot of the same parts found in the VW Golf, so you get a quality vehicle. Looks-wise the Leon is an eye-catcher, the latest model was lowered and made a little wider and with sharp lines it looks the part. As well as being a very solid car its actually a lot of fun to drive. In effect you are getting the benefits of the Golf at a cheaper price with the only drawback being a more limited range of models and engines which in reality isn't such a big issue. There are three trim levels and we recommend you look at the SE model which offers plenty of equipment and options for most people's tastes. Engine-wise there's a frugal 1.6 TDi Ecomotive which offer 74mpg (combined) and CO2 emission of 89g/km, there are also and 1.2 and 1.4 petrol options.
We also like the Ford Focus which is a superb car to drive, it doesn't match up to its rivals in terms of cabin and boot space but in every other department it is very good and you get plenty of trim-levels and engine options to choose from.
Best Family Car - Skoda Superb
- The Skoda Superb is one of our overall favourite cars. It offers stylish looks, a refined/quality build and can actually rival some luxury cars for comfort and drive. There's plenty of equipment and enough engine options to keep you happy, our pick is the Superb 2.0 TDI SE Business which really packs a punch for its price. Luxury, comfort, bags of equipment and tech its all there including Alcantara/leather upholstery, front and rear parking sensors, sunset glass and a 6.5 inch touchscreen with sat nav! The 2.0 TDi engine offers a good blend of efficiency and power offering 0-62mph in 10.9 seconds and a combined fuel economy of 68.9pmg.
We still like the Mazda6 and VW Passat but overall the Skoda Superb is a such an impressive package for the price it can't be matched at the moment in our opinion.
Best Crossover / Compact SUV - Nissan Qashqai
- Its no fluke that the Nissan Qashqai has bagged numerous awards over several years and it really is the flagship Crossover with stunning looks which were improved in the latest 2nd generation model. The Qashqai offers excellent equipment levels a generous boot and has plenty of room inside the vehicle. The good news doesn't stop there, from a practical perspective there are some very efficient engines with the clean 1.5 dCi turbo diesel emitting just 99g/km of CO2 offering the benefit of road tax exemption. If you need a bit more power there's a 1.6 dCi turbo diesel or 1.2 DIG-T petrol engine, both offer a decent trade-off between power and efficiency. There are also 4WD, manual and automatic transmission options.
Even the entry-level Qashqai offers good equipment levels but if you like your gadgets and extra comfort we recommend you pay the extra and go for the Acenta Premium model.
A mention to the new Citroen Cactus. a somewhat quirky looking Crossover which also offers something different inside the cabin. Good pricing and some frugal engines make it worth looking at you might also want to give the Mazda CX-3 a once-over which pushes the Qashqai for the best Crossover title with an all round great package, fantastic looks, smooth drive and good equipment levels.
Look out for Part 2 of The UK Car Discount New Car Awards coming soon at
www.uk-car-discount.co.uk
…..