Federal Bard IVC Filter Lawsuits Head to Multidistrict Litigation in Arizona, Bernstein Liebhard LLP Reports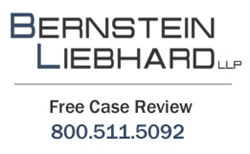 August 19, 2015 - A new multidistrict litigation has been established in the U.S. District Court, District of Arizona, for all federal Bard IVC filter lawsuits (
http://www.ivcfilterlawsuit2015.com/
) filed on behalf of individuals who were allegedly injured by C.R. Bard, Inc.'s Recovery and G2 inferior vena cava (IVC) filters. In an
Order
dated August 17th, the U.S. Judicial Panel on Multidistrict Litigation (JPML) transferred 22 cases to the District of Arizona, after finding that the lawsuits shared common questions of fact, and that centralization will promote the just and efficient conduct of the litigation. (In Re: Bard IVC Filters Products Liability Litigation – MDL No. 2641)
"Our Firm is investigating a number of claims on behalf of individuals who allegedly suffered serious complications due to Bard IVC filters. Because this litigation could encompass numerous lawsuits that involve similar allegations, centralization in a single court does appear to be warranted," says Sandy A. Liebhard LLP, a partner at Bernstein Liebhard LLP, a nationwide law firm representing victims of defective drugs and medical devices. The Firm is currently investigating product liability claims on behalf of individuals who may have been harmed by C.R. Bard's IVC filters.
Bard IVC Filter Lawsuit Allegations
According to court documents, C.R. Bard's Recovery and G2 IVC filters are designed to "catch" blood clots, so that they cannot travel to the lungs and cause a pulmonary embolism. All of the IVC filter lawsuits transferred to the new multidistrict litigation put forth similar allegations regarding design defects that make these devices more likely to fracture, migrate, tilt or perforate the inferior vena cava, resulting in serious injury to patients.
Multidistrict litigations are established to allow similar lawsuits that involve common questions of fact to proceed more efficiently through the court system. By centralizing the Bard IVC filter docket, duplicate discovery and inconsistent court rulings will be avoided, and the resources of the courts, parties and witnesses will be preserved. In transferring the cases to the District of Arizona, the JPML pointed out that the Bard entity responsible for the design, testing, marketing and post-market surveillance of the company's IVC filters is headquartered in the District, and that relevant documents and witnesses will be located there.
Individuals who allegedly experienced serious complications due to C.R. Bard's Recovery and G2 IVC filters may be entitled to compensation for medical bills, lost wages, pain and suffering, and more.
To learn more
about filing a Bard IVC lawsuit, please visit Bernstein Liebhard LLP's website. Free, no-obligation legal consultations can also be obtained by calling 800-511-5092.
About Bernstein Liebhard LLP
Bernstein Liebhard LLP is a New York-based law firm exclusively representing injured persons in complex individual and class action lawsuits nationwide since 1993. As a national law firm, Bernstein Liebhard LLP possesses all of the legal and financial resources required to successfully challenge billion dollar pharmaceutical and medical device companies. As a result, our attorneys and legal staff have been able to recover more than $3.5 billion on behalf of our clients. The Firm was named by The National Law Journal to the Plaintiffs' Hot List, recognizing the top plaintiffs firms in the country, for 12 consecutive years. Bernstein Liebhard LLP is the only firm in the country to be named to this prestigious list for a dozen consecutive years.
Bernstein Liebhard LLP
10 East 40th Street
New York, New York 10016
800-511-5092
ATTORNEY ADVERTISING. © 2015 Bernstein Liebhard LLP. The law firm responsible for this advertisement is Bernstein Liebhard LLP, 10 East 40th Street, New York, New York 10016, 800-511-5092. Prior results do not guarantee or predict a similar outcome with respect to any future matter.
Contact Information:
Sandy A. Liebhard, Esq.
Bernstein Liebhard LLP
info(at)consumerinjurylawyers(dot)com
http://www.ivcfilterlawsuit2015.com/
https://plus.google.com/115936073311125306742?rel=author
Email IVC Filter Lawsuit Information Center