Picker Components Announces Newly Designed PC521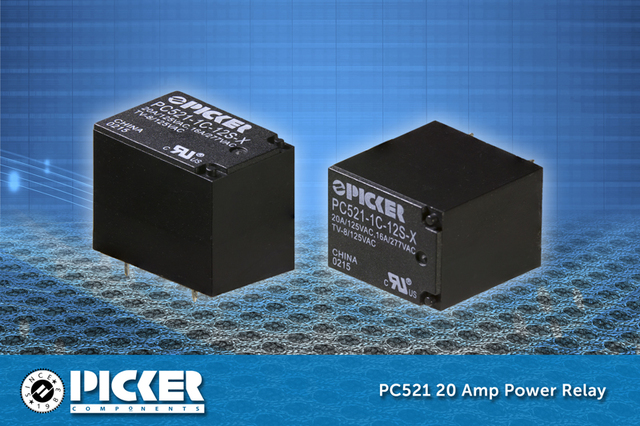 CARROLLTON, TX - AUGUST 26, 2015 - Picker Components, a quality leader in design and manufacturing of electro-mechanical and solid state relays, today announced the release of its PC521, a 20 Amp subminiature PCB power relay designed for cooler operation by dissipating heat more efficiently, which optimizes its performance and reliability. Picker Components is a trusted supplier of superior relays due to stringent controls on its materials and design excellence, which achieve lower internal resistance, less heat and higher reliability.
The PC521 power relay is ideal for industrial applications such as lighting and power controls. The PC521 possesses many passive cooling design features, which dissipate excessive heat and increase the longevity of the relay. The cooling features include the following integrated improvements:
Wider and thicker contacts
Taller, wider armature
Improved pathway for efficient heat transfer away from the contacts
Optimized contact positions for heat transfer into the expanded coil via the printed circuit pins
Complete specifications for the PC521 20 Amp subminiature PCB Power Relay are available for download from the Picker Components website at
www.pickercomponents.com/pdf/Relays/PC521-20-Amp-High-Switching-Power-Subminature-UL-PCB-Power-Relay.pdf
. The PC521 has the following UL ratings and key specifications:
20 Amps at 125 VAC and 16 Amps at 277 VAC Contact Rating
1 HP at 125 VAC and 250 VAC
TV8 Rated (80 Amp Surge Current) at 125 VAC
Class "F" Insulation Standard: –40°C to 105°C Operating Temperature
UL and Canadian UL Listed
Maximum Switching Power 560 W, 4,450 VA
Popular "Sugar Cube" Subminiature PCB Footprint
Sealed, Immersion Cleanable
RoHS Compliant
Pricing and Availability
Per piece pricing for the PC521 is $1.45 in 1,000 quantity orders. For a complete list of representatives and distributors of Picker Components' products, visit
www.pickercomponents.com/distributor.php
.
About Picker Components
Founded in 1983, Picker Components manufactures and distributes a wide range of Automotive Relays, General Purpose, Power Relays, Signal Relays and Solid State Relays. Picker's product line spans from the tiniest fractional current rated Signal Relay to powerful 50 Amp Power Relays and 150 Amp Automotive Relays. Picker's superior quality contacts are alloyed in Japan under the most exacting requirements. Picker is the only major relay factory in China that does not use Chinese-made contacts. The actual formulation of Picker's contacts is highly proprietary. For more information, visit
www.pickercomponents.com
.
Email Picker Components Corp