Ability Business Explores the Rise of eCommerce in Latest Survey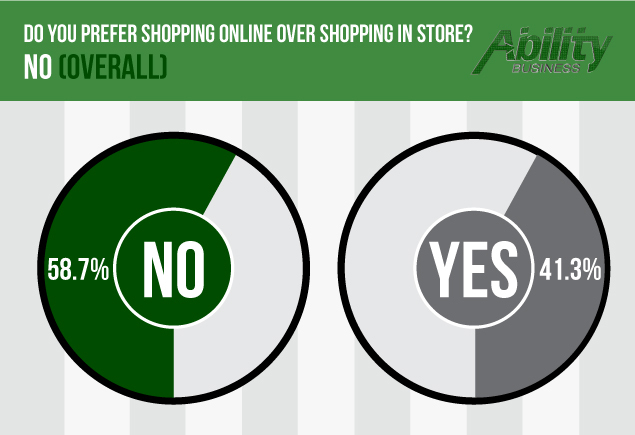 August 26, 2015 - In recent years, nothing has been more prominent or more transforming in the way we conduct business than the Internet. As much as 80% of the online population in the U.S. has used the Internet to purchase goods and services, and a recent survey conducted by the experts at Ability Business has learned that slightly under half of all Americans actually prefer shopping online rather than in the store.
According to many experts, it's not a matter of if eCommerce surpasses in-store shopping, but rather a matter of when. Customers are increasingly using their computers, laptops and even their cellphones to shop for the goods and services no matter what time of day or where they find themselves.
Leading the way in the push for mobile shopping are the younger generations, as over half of survey respondents between the ages of 25 and 34 actually preferred online shopping, and nearly half of all 18 – 24-year-old and 35 – 44-year-old respondents felt similar. Shopping isn't the only activity done online either, as many shoppers use the web to help them locate the best deals before even stepping foot in a store.
Without question, one of the biggest reasons behind the latest rise in e-Commerce is that the online marketplace provides customers with thousands of options to find the products and services they are after. With almost endless options in front of them, many customers feel that they are all but guaranteed to find the best deal and customer experience out there if they try hard enough.
Many businesses are turning towards custom eCommerce solutions to help build their brand's online marketplace. These customized eCommerce business solutions aim to provide online shoppers with the best experience possibly, while providing your team with fully-featured customer and order management capabilities that add value to your organization.
No matter what it is your brand is selling, taking your business online is a surefire way to build your organization's bottom line. Learn more about the recent push for eCommerce platforms by visiting
https://www.abilitybusiness.com/online-vs-in-store-what-do-your-customers-prefer-the-most
.
Don't fall behind the online trend and create an online home for your brand with help from the eCommerce experts at Ability Business. Offering fully customizable online marketplace platforms, shopping cart software and web store designs, Ability Business can help you build a successful online retail campaign. To learn more about what the expert eCommerce consultants at Ability Business can do for you, visit
https://www.abilitybusiness.com
Contact Information
Lisa Burnett
Ability Business
330-644-4123 x207
Contact Us