Pittsburgh is Quickly Rising as a Tourist Hotspot, According to Recent Survey by the DoubleTree by Hilton Hotel & Suites Pittsburgh Downtown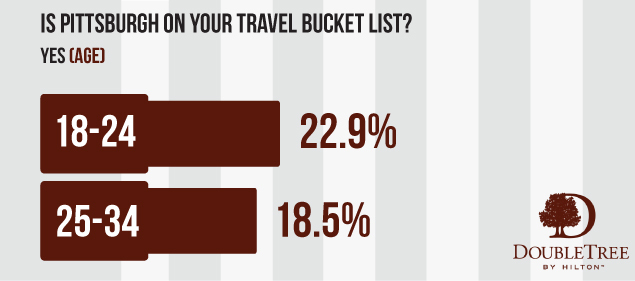 August 27, 2015 - While it's easy to pass Pittsburgh aside when thinking of the country's most popular tourist destinations, the city is quickly changing minds of travelers from all across the globe. Discover what makes Pittsburgh so promising to travelers young and old with a little help from the DoubleTree Downtown Pittsburgh.
Pittsburgh's resurgence from rust belt ruin to one of Conde Nast Traveler's top 15 places to go in 2015 was far from an overnight job. For years, the city has been moving full speed ahead in an attempt to shake off the dust the collapse of the steel industry left behind.
According to the survey from the DoubleTree Pittsburgh Downtown, the efforts are paying off. Nearly ¼ of survey respondents between the ages of 18 and 24 had Pittsburgh on their list of must-see destinations, and 1/5 of respondents between the ages of 25 and 34 said the same.
So what is it that has young people flocking to the Steel City like never before? One of the biggest reasons behind the city's revival is the revitalization of Pittsburgh's downtown neighborhood. In the past, downtown Pittsburgh went dark after the workday was over, those days are now a distant memory. Nowadays, downtown's streets come to life at all hours of the day. Thanks in part to a transformed Market Square, a lively Cultural District, and improved infrastructure, downtown has become a center for both work and play.
Another reason for Pittsburgh's resurgence is the almost endless opportunity for fun and excitement no matter what neighborhood you find yourself in. Travelers can enjoy some of the finest culinary hotspots in town after catching a show in the Cultural District, or stop in for a prohibition era craft cocktail at one eclectic bars along Butler Street in Lawrenceville.
If you're looking for a more family-friendly affair, take a trip to the city's North Shore and stop by the Carnegie Science Center or the Children's Museum Pittsburgh. Both of these interactive museums give your child the chance to explore the world from a more hands-on perspective while learning a little something in the process.
Dive deeper into the DoubleTree Pittsburgh Downtown's survey results by visiting
http://www.doubletreepittdowntown.com/pittsburgh-as-a-popular-travel-destination/
.
While the Steel City may not be first on your travel bucket list, it is silently becoming one of the nation's best kept secrets. Discover for yourself what a trip to Pittsburgh has in store for you by booking your accommodations with the DoubleTree by Hilton Hotel & Suites Pittsburgh Downtown. Start planning your Pittsburgh getaway today by visiting
http://www.doubletreepittdowntown.com/
.
Email DoubleTree by Hilton Hotel & Suites Pittsburgh Downtown