eRack Systems Announces Imminent 500 Terabyte (Half Petabyte) eRacks/NAS50 Cloud-Ready Storage Servers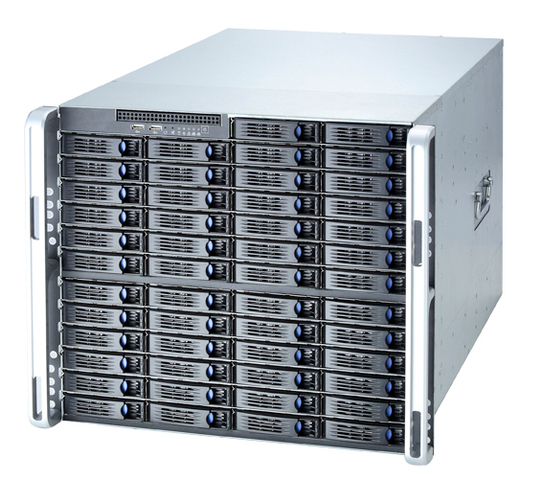 September 1, 2015 - Fremont, California
–
eRacks Systems
, the leading nation-wide provider of high-capacity, cloud-ready, enterprise-class storage solutions based in Fremont, California today announced the availability of its flagship
eRacks/NAS50
, now with up to 500 Terabytes of data storage capacity utilizing the newest 10TB HGST high-end drives. The eRacks/NAS50 will be available presently and the company is now accepting pre-orders.
The eRacks/NAS50 is a 9U rack mount unit with 50 removable drive bays. Previously providing 400 terabytes of data storage space, NAS50 will now be offering half a Petabyte (500TB) of storage capacity.
The 9U rack mount eRacks/NAS50 storage server is truly a remarkable petascale solution suitable for cloud storage, SDS (Software-Defined Storage), as well as NAS/Local LAN applications. The solution is also essential for media library applications that require massive amounts of data storage space.
On standard data center 42u racks, four eRacks/NAS50 servers will provide two full Petabytes of data storage while leaving enough extra room for equipments such as UPS, KVM, network switches and firewalls, or other accessories.
The new
eRacks/NAS50
high-capacity storage servers will incorporate 50 HGST 10 Terabyte HelioSeal hard drives. The HGST hard drives use HelioSeal and Shingled Magnetic Recording (SMR) technologies.
The HGST hard drives use helium in place of air allowing extra room for more disks in a standard hard drive. That is because helium allows for much thinner disks without any disruptive turbulence effects. The feature, therefore, allows for incorporation of more disks in one drive providing for more capacity on each drive. That leads to lower total cost of ownership as an added bonus for utilizing eRacks Systems' NAS50 storage servers. Additionally, helium drives consume as much as 27% less power than traditional hard drives making NAS50 truly an eco-friendly cloud-based storage server while saving considerable amount of money for customers at the same time.
eRacks Systems' new 10 Terabyte drives also make use of SMR technology. The Shingled Magnetic Recording technology uses wide data tracks as opposed to traditional narrow-track disks. The tracks on SMR drives overlap, removing the gap in between tracks providing 25 to 100 percent more data storage capacity on the same drive.
"A 'green' Big Data / Private Cloud system like this is the ultimate tool that any business out there should consider, as it will not only reduce power consumption by typically 27%, but also offer 20% greater storage capacity - and bring watts-per-petabyte efficiency to a completely new level!" said Joseph Wolff, Founder & CTO, eRacks Open Source Systems. He further adds that this is a great opportunity for businesses of all sizes to "Go-green".
eRacks Systems remains committed to Open-Source technology and is prepared to pre-install all orders with necessary Cloud, NAS, and other open source storage server software upon customer request.
Founded in 1999 by system architects and network design consultants, eRacks Systems is well-known in the industry as the go-to-source solution provider when it comes to open-source peta-scale cloud-ready applications.
eRacks Systems has offices in Fremont and Los Gatos, California. Customers can contact the company by phone number (408) 455-0010 or email at
info@eracks.com
. Company's website
http://www.eracks.com
is available for further information on eRacks/NAS50 and other petascale solutions.
eRacks Open Source Systems
Phone: (408) 455-0010
Fax: (631) 392-9842
http://www.eRacks.com
eMail:
info@eracks.com