Ascension Software's ORION Amenity Ordering comes to Key West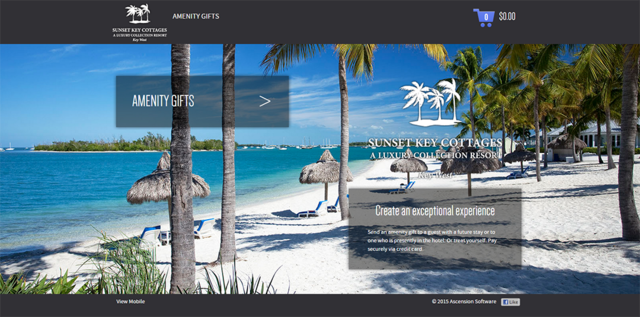 September 3, 2015 -
Sunset Key Cottages
is a luxury resort in Key West, Florida. Recently, Sunset began using the ORION 4.0 platform for amenity ordering. Now, ordering amenities like massages, floral arrangements, wine and chocolate, and outdoor adventures is as simple as jumping online via any web-enabled device from anywhere in the world. Both guests and non-guests (those placing orders remotely for Sunset guests) have access to the full online amenities catalog, and can make their selections 24 hours a day, 7 days a week.
ORION is a suite of eCommerce & online room service solutions. With ORION 4.0, hotels are able to deliver a fast, visually stunning online ordering experience that can be easily customized to suit the needs of a specific hotel. The platform integrates with existing point of sale software, produces accurate orders, offers time-based menus, and acts as an overall digital compendium with upsell suggestions tied into every order.
Guests want branded experiences. They also want goodies when they stay at your hotel for weddings, honeymoons, anniversaries, and various other special occasions. So make ORION 4.0 available to your guests and non-guests alike. For the
Sunset Key Cottages
, Ascension Software has delivered an attractive ORION amenity ordering experience for guests and non-guests that makes purchasing simple on any web-enabled device, at any time, from anywhere.