Corporate Finance Associates Has Advised Acme Finishing Company in Sale to Acuity Capital Partners, LLC.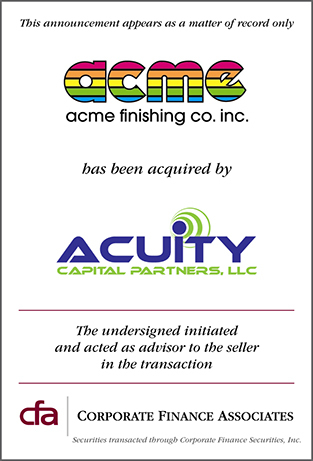 September 3, 2015 - Corporate Finance Associates, Inc., an international investment banking firm providing merger, acquisition and financial advisory services, is pleased to announce that it was the exclusive advisor to Acme Finishing Company ("Acme") in its acquisition by Acuity Capital Partners ("Acuity"), a Chicago area private investment firm. Terms of the transaction were not disclosed.
Founded in 1932 by William Walters, Acme has been providing high quality coating solutions for three generations. Acme is a provider of powder coating, liquid coating, and decorative powder coating to customers competing in the lighting, automotive, fencing, and medical industries among others. Acme is headquartered in Elk Grove Village, Illinois.
The Chicago office of CFA, acted as the sole advisor to Acme, which included M&A advisory services and financial expertise throughout the entire phase of the sale process. The transaction was completed August 3, 2015. The deal was led by Bob Contaldo, Managing Director and Principal of CFA Chicago.
"It was truly a pleasure to work with third generation ownership and play a role in the future of a company with such a rich history," stated Bob Contaldo.
In 2012, CFA represented DeWayne's Quality Metal Coatings, Inc., a Lexington, Tennessee based provider of zinc electroplating and e-coating to customers in the automotive, heavy equipment, heavy truck, and appliance industries, in the management recapitalization by Acuity.
"Both of these businesses have long track records of providing high quality services to customers ranging from Fortune 500 businesses to small manufacturing houses. CFA did a great job of finding these businesses and managing the respective sale processes," said G.R. Kearney, partner of Acuity.
About Corporate Finance Associates
Founded in 1956, Corporate Finance Associates is one of the largest and most experienced middle-market M&A advisory and investment banking firms in the nation. CFA has offices across the United States, Canada, Mexico, India, and partner offices in Brazil, China, and throughout Europe. More information is available at
www.cfaw.com
. Securities offered through Corporate Finance Securities, Inc., member FINRA and SIPC.
Email Corporate Finance Associates