IVC Filter Lawsuit Attorneys at Bernstein Liebhard LLP Comment on Part 2 of NBC News Investigation into C.R. Bard's Recovery Filter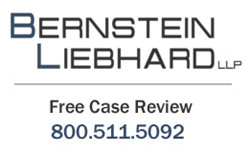 September 4, 2015 - An NBC Nightly News investigation into injury and deaths allegedly associated with C.R. Bard's Recovery IVC Filter (
http://www.ivcfilterlawsuit2015.com/c-r-bard-ivc-filter-investigation-aired-by-nbc-nightly-news-raises-shocking-allegations/
) has raised unsettling questions about the manner in which the company obtain regulatory clearance to market the device. According to
part two of the NBC News IVC filter series
, the company's first application to the U.S. Food & Drug Administration (FDA) was rejected. C.R. Bard then recruited Kay Fuller, a veteran regulatory specialist, to help secure approval for the Recovery filter.
In an exclusive interview with NBC Nightly News that aired on September 3rd, Fuller discussed her serious concerns in regards to the Recovery IVC filter. When she brought those concerns to the company, her superior threatened to remove her from the team. And while Fuller insists that she never signed off on the final application for the Recovery filter, C.R. Bard did submit the document to the FDA with what appears to be her signature. Fuller, who maintains that the signature was added to the application without her knowledge, then went to the FDA with her concerns. It's unclear if the agency acted on her information.
"These latest revelations are shocking. Our Firm has heard from a number of individuals who were allegedly harmed by the Recovery IVC Filter, and dozens of others are already pursuing lawsuits against C.R. Bard. We commend NBC News for bringing attention to this matter," says Sandy A. Liebhard LLP, a partner at Bernstein Liebhard LLP, a nationwide law firm representing victims of defective drugs and medical devices. The Firm is currently evaluating product liability claims on behalf of individuals who may have been harmed by C.R. Bard's IVC filters.
C.R. Bard IVC Filter Litigation
The Recovery IVC Filter was approved by the FDA in 2003. Such devices are intended to be implanted in the inferior vena cava as a way to prevent blood clots from traveling to the lungs and becoming a pulmonary embolism. In 2005, C.R. Bard stopped selling the Recovery filter and replaced it with a modified version called the G2. According to NBC Nightly News, in the course of a decade the Recovery filter was linked to more than 300 non-fatal injuries and 27 deaths. Documents obtained by the network suggested that as many as 20,000 people could be walking around with a Recovery filter implanted in their body.
Court records indicate that both the Recovery and G2 IVC filters have been named in dozens of lawsuits that allege the devices pose a serious risk to patients due to a propensity to fracture, migrate, tilt or perforate the inferior vena. Earlier this month, the U.S. Judicial Panel on Multidistrict Litigation transferred all federally-filed IVC filter lawsuits involving C.R. Bard to the U.S. District Court, District of Arizona for the purposes of coordinated pretrial proceedings. (In Re: Bard IVC Filters Products Liability Litigation – MDL No. 2641)
Bernstein Liebhard LLP is now offering free IVC lawsuit reviews to individuals who suffered complications allegedly associated with C.R. Bard's Recovery or G2 devices.
To learn more
, please visit the Firm's website, or call 800-511-5092 to arrange for a free, no-obligation legal consultation.
About Bernstein Liebhard LLP
Bernstein Liebhard LLP is a New York-based law firm exclusively representing injured persons in complex individual and class action lawsuits nationwide since 1993. As a national law firm, Bernstein Liebhard LLP possesses all of the legal and financial resources required to successfully challenge billion dollar pharmaceutical and medical device companies. As a result, our attorneys and legal staff have been able to recover more than $3.5 billion on behalf of our clients. The Firm was named by The National Law Journal to the Plaintiffs' Hot List, recognizing the top plaintiffs firms in the country, for 12 consecutive years. Bernstein Liebhard LLP is the only firm in the country to be named to this prestigious list for a dozen consecutive years.
Bernstein Liebhard LLP
10 East 40th Street
New York, New York 10016
800-511-5092
ATTORNEY ADVERTISING. © 2015 Bernstein Liebhard LLP. The law firm responsible for this advertisement is Bernstein Liebhard LLP, 10 East 40th Street, New York, New York 10016, 800-511-5092. Prior results do not guarantee or predict a similar outcome with respect to any future matter.
Contact Information:
Sandy A. Liebhard, Esq.
Bernstein Liebhard LLP
info(at)consumerinjurylawyers(dot)com
http://www.ivcfilterlawsuit2015.com/
https://plus.google.com/115936073311125306742?rel=author
Email IVC Filter Lawsuit Information Center