Program: 3rd Global Moringa Meet: 2 days International Moringa Production & Application Workshop on 21 – 22 Nov 2015: Main Themes released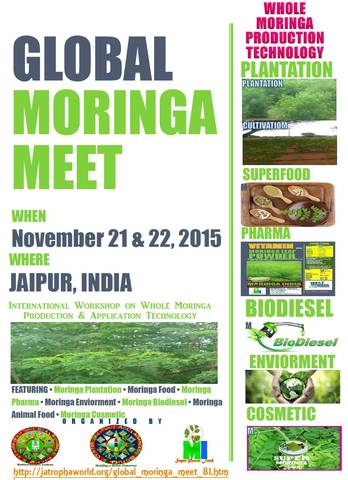 September 21, 2015 - Main Themes of Global Moringa Meet 2015: 2 Day Moringa State of Art International Workshop from November 21 & 22, 2015 at Jaipur, India shall be Main Theme: Utilization of Whole Moringa For Farmer, For Fuel, For Food, For Health, For Feed For Pharma, and For Environment
3rd Global Moringa Meet is the premier destination for Moringa growers, producers and professionals interested in the latest Moringa production technology, news and policy. The Global Moringa Meet provides tools to all stakeholders of Moringa industry pros use to plan learn and grow their business – whether at the office, in the farm or at factory.
Moringa is a promising raw material plant for the sustainable production of biofuels, use in the Chemical, Cosmetics, Pharmaceutical and Food industries and the use of the by-products in animal feed. The Moringa Plant is: Variously applicable as vegetables and oil, also as food supplements; Unpretentious in terms of growing conditions; environmentally friendly by dispensing fertilizer and pesticides - Economically and socially sustainable for the farmers and the processing industry.
Main Themes of Global Moringa Meet 2015: 2 Day Moringa State of Art International Workshop from November 21 & 22, 2015 at Jaipur, India shall focus on a decade of advances in research and development on Genetics Agronomic and Horticulture Practices in Sustainable Moringa Farms. The Advanced Biofuel Center (ABC) today released the Provisional agenda of upcoming third international programme on Moringa oleifera
Main Theme: Utilization of Whole Moringa For Farmer, For Fuel, For Food, For Health, For Feed For Pharma, and For Environment
Session 1: Biology, Biodiversity & Physiology
Topics: Gremplasm, Genomic, Genetic Improvement & Propagation Taxonomy; Biodiversity, Breeding, varietal evaluation and improvement ; Ecological adaptation, Seed and plant propagation
2: Production Technology & Agro ecosystem
Topics: Tree Crop Management Horticulture Farm Design & Management; Agronomics and sustainability , Climate and soil; Cropping systems and production economics; Integrated crop management with focus on Good Agricultural Practices (GAP); Low-input organic production; Harvesting, post-harvest and processing; Good Manufacturing Practices (GMP)
Session 3: Nutrition and Health
Topics: Nutritional Benefits and Medicinal Properties Moringa in traditional and alternative medicine;Clinical studies on health benefits of Moringa;Nutritional studies for improved health;Nutritional quality of Moringa plant parts (leaf, fruit/pod, seed, root, flower);Moringa nutrition and health products in the market
Session 4: Industrial Uses of Moringa
Topics: Commercial and Industrial Utilization Moringa Oil and Oil technology & Quality,Next Generation Biofuels Feedstock,Water treatment,Moringa in cosmetics industry
Session 5: Economics and Sectoral Issues
Topics: Economy, Marketing & Health-promoting Properties financing requirements of large scale projects, Carbon credits, Existence of meaningful supply chains Market demand and its perspectives: Food, health, cosmetic, Scale:Large-scale vs. small-scale, Local use vs. export, Ethics: Impact on local communities, Involvement of small holders, Moringa and climate change , Organic Moringa production, Market, quality standards and international trade
Session 6: Practical Session: Learn by doing
LIVE DEMOSTRATION -NURSERY, -PLANTATION, LEAF PROCESSING, OIL EXTRACTION,BIODIESEL MAKING etc
In the recent years Moringa oil industry has caught the great attention in the global market and, as the world's one of the Moringa producer, India plays a very important role in it. Thus, it is very important for stakeholders of Moringa oil industry to continuously and constantly to keep updated on the technology due to its potential in maximizing productivity and achieving further efficiency. ABC holds the Global MORINGA MEET 2015 as an important event for global Moringa stakeholders. This event will provide reliable information on Moringa, market dynamics, and also with the latest issues in the industry.
A combination of low yielding Moringa varieties, the absence of effective crop management, and high plant mortality during the planting phase, contributes to sub-optimal yields. Moringa investors and crop research institutes are continuously studying modern high-yielding varieties developed by breeding programs, under ideal climatic conditions in Africa, Asia, and America etc.
Commenting upon upcoming Moringa meet Mr. DP Maharshi President Moringa India said, "With the 3rd Moringa Meet 2015 we want to awaken in Jaipur on worldwide interest in Moringa cultivation project. Our target groups are from poorest of poor countries to most vitamin consuming countries. The 3rd Moringa Meet 2015 will combine international expertise in Jaipur and present it to the audience. The strategy and content will be represented in three thematic sections. Section 1 - Cultivation: Moringa Section 2 - Processing: the processing capabilities and techniques of Moringa leaf/seed/oil Section 3 - Preconditions: Growing Moringa under aspects of environmental and social sustainability"
"If you are an investor interested to develop Moring plantations, the Moringa Meet 2015 is an ideal meet for you. Because at this conference, key experts will deliver insight on the technical and scientific aspects of Moringa cultivation! More specifically, you'll hear on high yielding materials and crop improvements by relevant authorities include:-Elite Breeding and Genetic Improvement -Developments in Moringa Varieties High Yielding Materials -Agronomic Specificity and Yield Potential" He said
Of course, the above is only a few of the sessions you'll benefit from at the 2 day workshop. Besides the comprehensive presentations, this event will also serve as an excellent platform to see, touch and experience Moringa in person. So ensure you're there at Global Moringa Meet this November.
"The Global Moringa Meet offers you to take a solid step to optimise your Moringa operation and maximize your returns; and you can do this with the advice of, and using best practices learned, from some of the best Moringa scientists in the world. This international Moringa Meet can help drive revenues, profits and success in your Moringa Business. Please feel free to contact us if you have questions or would like additional information about the moringa meet Please Simply click
here
to register 3rd Global Moringa Meet 2015 or email or call me on +91 9829423333 or WhatApps today" He further added.
Don't you want to be one of the first to hear about groundbreaking developments in the Moringa industry almost as soon as they happen? If you do, then attendance at this not-to-be-missed meet is a must. All the information you need about GMM 15 can be found on its website:
http://jatrophaworld.org/global_moringa_meet_81.html
MORINGA INDIA is proud of introducing cutting edge technology to harness the power of Moringa as it has incredible strength in terms of Moringa research and technology and we hope, with the help of our expertise and experience participants shall see real opportunities for using this opportunity as a hub of excellence and knowledge to progress the Moringa industry.
The 3rd Global Moringa Meet India is the most authoritative Moringa Programme and the ONLY event that you need to attend to keep abreast of the development in international Moringa sector. Now is a good time to confirm your participation at 3rd Moringa Meet India and avoid disappointment as seats at the Programme sell out fast!
Register today! Don't delay, as there are only limited seats. For registration information click
here
or contact us DP MAHARSHI PRESIDENT MORINGA INDIA ADVANCED BIOFUEL CENTER +91 9829423333 (WhatsApp) Skype: cjp-india
http://jatrophaworld.org/global_moringa_meet_81.html
Email Advanced Biofuel Center
Attachments