Bernstein Liebhard LLP Investigates FiberGourmet, Inc. for Potential Violations of Consumer Protection, False Advertising Laws Relating to the Ingredients of its Products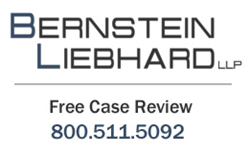 September 9, 2015 - The law firm of Bernstein Liebhard LLP announces that it is conducting an investigation of FiberGourmet, Inc. and related companies for potential violations of consumer protection and false advertising laws. The investigation is based on testing and lab results revealing apparent misrepresentations about the ingredients and/or nutritional information for FiberGourmet products. The firm's investigation centers on alleged misrepresentations in the labeling, advertising and marketing of the products regarding the nutritional information and/or the ingredients. These misrepresentations pose unacceptable risks to consumers, especially those with medical conditions that would put them at risk if they consume the mislabeled or falsely advertised products.
The investigation suggests that Fiber Gourmet and others associated with it have engaged in misleading business practices, including intentionally and/or negligently misrepresenting the ingredients and/or the nutritional information of their products. The products are sold under the names "FiberGourmet" and/or "Food Industry Technology." The Fiber Gourmet lines include:
®Thinables crackers and flatbreads
Light pasta varieties
Light fettuccine noodles product line
The alleged misrepresentations include the amount of dietary fiber, calories, fat, and sodium in these products. According to studies and/or lab tests, the products' labels and/or advertisements drastically understate or otherwise misrepresent the calories, fat, and/or sodium in these products, while at the same time drastically overstating or otherwise misrepresenting the amount of dietary fiber in these products.
If you or someone you know purchased and/or consumed products sold under the name FiberGourmet or Food Industry Technology and believe that you were misled, or if you have any information that could help with this investigation, we would like to speak with you. Please contact Sandy A. Liebhard, Esq. at Bernstein Liebhard LLP by telephone at (877) 779-1414 or by email at
info@consumerinjurylawyers.com
.
About Bernstein Liebhard LLP
Bernstein Liebhard LLP is a New York-based law firm exclusively representing injured persons in complex individual and class action lawsuits nationwide since 1993. As a national law firm, Bernstein Liebhard LLP possesses all of the legal and financial resources required to successfully challenge billion dollar pharmaceutical and medical device companies. As a result, our attorneys and legal staff have been able to recover more than $3.5 billion on behalf of our clients. The Firm was named by The National Law Journal to the Plaintiffs' Hot List, recognizing the top plaintiffs firms in the country, for 12 consecutive years. Bernstein Liebhard LLP is the only firm in the country to be named to this prestigious list for a dozen consecutive years.
Bernstein Liebhard LLP
10 East 40th Street
New York, New York 10016
(877) 779-1414
ATTORNEY ADVERTISING. © 2015 Bernstein Liebhard LLP. The law firm responsible for this advertisement is Bernstein Liebhard LLP, 10 East 40th Street, New York, New York 10016, (877) 779-1414. Prior results do not guarantee or predict a similar outcome with respect to any future matter.
Contact Information:
Sandy A. Liebhard, Esq.
Bernstein Liebhard LLP
info (at)consumerinjurylawyers(dot)com
www.consumerinjurylawyers.com
https://plus.google.com/115936073311125306742?rel=author
Email Consumer Injury Lawyers