Sterling Land Company Helps Potential Tenants Define Their Wants and Needs During Their Apartment Search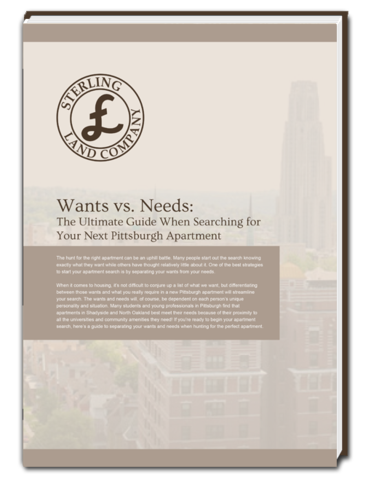 September 14, 2015 - When it comes to searching for just the right apartment for your living needs, it's rather easy to get caught up in the process and lose vision of exactly what you want. Make sure all your living needs are met by your next apartment before signing the lease with help from Sterling Land Company.
While it may not be hard to envision the perfect apartment you're after, separating your actual needs from your unnecessary needs will be the key to choosing the right apartment for your lifestyle. If you're ready to begin searching for your next Pittsburgh apartment, taking the time to separate what you want from what you need will help streamline your search and make your move easier than ever.
Even if your budget is your biggest deciding factor when choosing what Pittsburgh apartment rental is right for you, deciding between different apartments that fall in your price range is where separating your wants and needs will help out.
Creating a wants and needs checklist is relatively simple, and an essential tool that can help your slim down your apartment search. Above all else, setting a budget for yourself is the first step to take in your search. Your budget will often determine what neighborhood you can live in, as well as any extra amenities you can afford. According to Sterling Land Company, tenants should plan to spend no more than 30 percent of their monthly income on housing.
It goes without saying that the location of any potential Pittsburgh apartment rental will have a big role in your decision. Many of the area's students and young professionals prefer to live in Pittsburgh's Shadyside and North Oakland communities, keeping them close enough to all the city's top universities, workplaces and interesting activities.
Once you've made a list of your preferred Pittsburgh neighborhoods, start thinking about the apartment itself. The amount of bedrooms, the size of shared living spaces and cost of utilities should all factor into your decision. Take some time to sort thing these important details of any apartment you look at, and use this information to compare each side-by-side when determining the best fit for you.
After the budget, location and features of your apartment are worked through, take some time to consider what amenities you'd like to see in your apartment. While these extra amenities may not be must-haves, they may help provide some extra oomph to your apartment and make your life simpler while feeling more at home.
Get your own detailed description of exactly what you are looking for on your next Pittsburgh apartment rental and download 'Wants vs. Needs: The Ultimate Guide When Searching for Your Next Pittsburgh Apartment' by visiting
http://www.sterlingland.com/offers/index.php.
Start your search off right by looking at the selection of Shadyside and North Oakland Apartments for rent from Sterling Land Company. Combining modern day amenities with timeless luxury, our Pittsburgh apartments offer some of the best living experiences in all the city. Take a look inside one of our apartment rentals today and visit
http://www.sterlingland.com/
to schedule your showing.
Email Sterling Land Company