SanaView Provides Their Guide to a Healthier & Happier Way of Life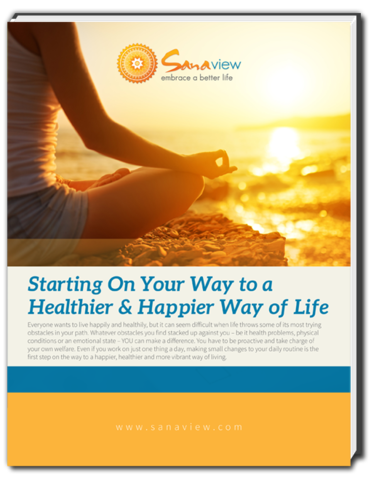 September 15, 2015 - No matter what our age or obstacles that life throws ahead of us, we are the only ones who can take charge and make a difference in our lives. Discover just how a little positive thinking and a new way of eating can help lead you to a happier, healthier and more vibrant way of life with help from SanaView.
When it comes to healthy living, even making the smallest changes to your diet or your attitude can make a big difference in your overall wellbeing. Rather than sulking in our failures, focus on the positives and take a proactive approach to changing your life.
One of the best things you can do for your body is to make the switch from processed to whole fresh, plant-based foods. Following a diet that is high in fresh, raw fruits and vegetables, nuts and seeds will help keep you looking and feeling younger, taking your body to its peak and managing stress and fighting off disease in ways you never thought possible.
Clean eating aside, being positive can make a world of difference for your welfare and health. While at times it may not seem easy, collecting the courage to look at any obstacle life throws at you in a productive manner will help you battle stress and depression. Turn your negative self-talk around with some positive spin, and you'll be well on your way towards a healthier and happier lifestyle.
One of the biggest obstacles we all face on a daily basis is stress management. However, a positive approach coupled alongside a plant-based diet may just be the secret to minimizing all the stresses in your life. SanaView suggests taking some time to cut back on your calendar, and even unplug from the world around us once in a while by enjoying the little things that make our lives so special.
When you're less stressed, you can take the time to plan better meals and eat healthily. When you unplug from your job or your electronics, you can build those valuable relationships that add pleasure to your everyday life. Being positive and eating right is the key to living healthier and happier, and all it takes to get there is some determination on your part.
Download SanaView's guide to a happier way of life, and discover the secrets to eating and living more healthily by visiting
http://sanaview.com/offers/index.php
.
Start on your own path towards a healthier way of life by signing up for a premium membership from SanaView. Featuring plant-based recipes and other healthy living advice, SanaView is your guide towards embracing a better way of living. Attend the upcoming Rejuvenation Retreat at Nemacolin Woodlands Resort, held on Saturday, September 26th and discover for yourself just how effective a positive state of mind and a clean diet can be for your health and happiness. For more information on all that SanaView has to offer, visit
http://sanaview.com
today.