NFY Interactive, Inc. San Diego Web Development Firm | Celebrating 16 Amazing Years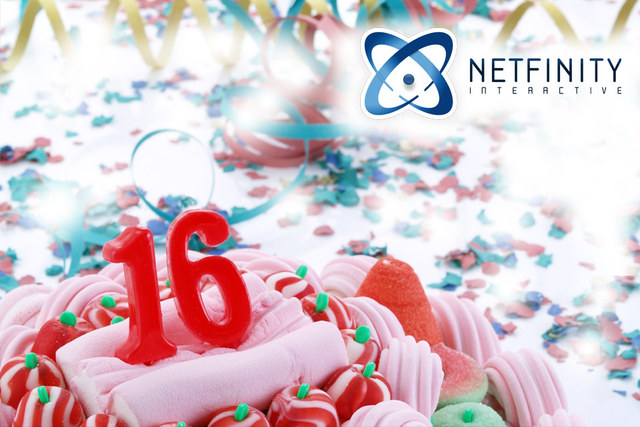 September 16, 2015 – (San Diego, CA.) Today,
www.netfinity.net
turned 16! It was not a typical sweet 16 like we see on MTV; there were no glamorous parties and no sharpie-art Lamborghinis. What today did have was 16 years of reflection on the amazing technology created over the last 3 decades. What ultimately started in a small 2-bedroom condo in San Diego, CA. blossomed into an agile and talented development and online marketing company with staff in California, Texas and Michigan – and clients in nearly every state and almost half a dozen countries.
NFY Interactive, Inc. started as a small web design company – offering simple design and development services. Our first large client helped pave the way for new technology and created a path for our company to grow and dominate in the home building industry for nearly a decade. We had the opportunity to work with every major home builder and land developer in the country and developed a variety of technologies, from websites, 3D interactive kiosks, CRMs, custom email marketing system and much more.
Our company shifted dramatically in 2007. We love to look back and consider the move a savvy business decision – but frankly, it was good luck and solid timing. We had begun seeking to diversify our client base, to help ensure that our team wasn't locked exclusively into the new homes sector (that story is for another time). During the course of 2007 and 2008, our company connected with major brands, including a Fortune 10 company, a variety of Fortune 500 companies and the company that set the "box" world on fire with – Birchbox.com.
"The last 16 years have been a blessing, we have had the ups and downs of economy and industry, and our clients continue to give us opportunities to create and build amazing things for them." stated Chris Fialkowski, President & CEO of NFY Interactive, Inc. "We love that we get to do this, making things is the core of what makes our jobs so wonderful, we get to build and create things that have never been developed before, who wouldn't get excited about that", stated Mr. Fialkowski.
In 2014, after 15 years in business; Chris Fialkowski took the reins of the company entirely. In 2015, he began to radically transition the company to ensure that each client relationship saw significant value and were able to quantify the value NFY Interactive, Inc. was providing. In Q1 and Q2 of 2015, NFY Interactive, Inc. welcomed some amazing new clients, including: A&O Logistics, Lisa Blalock, Premier Customer Brokerage, Talking Rock Ranch, KioMedia, Inc., GoalNation.com, Hope4Cancer and many more.
"At this point, we are going to focus on bringing a high level of service and quality to our clients, we will ensure that the work product is solid and does what it needs… Everything else will fall into place", stated Mr. Fialkowski. "The last 16 years has been amazing, but I truly feel the energy and excitement of a new company, a fresh perspective and desire to build new and amazing things for our clients."
NFY Interactive, Inc. –
www.netfinity.net
is a full service web development and online marketing agency located in San Diego, CA. with offices in Chula Vista. The team is comprised of entrepreneurs, marketers, developers, brand experts and more. The 16 year mark is driven by the new values statement of the company: Enjoy Work and Life, Encourage and Grow, Building Beneficial Relationships, Quality and Delivery. The story is simple: do great work and deliver – the rest will take care of itself.
Email NFY Interactive, Inc.
Attachments