Get Out and Explore Pittsburgh's Best Outdoor Attractions with Help from the DoubleTree Pittsburgh Downtown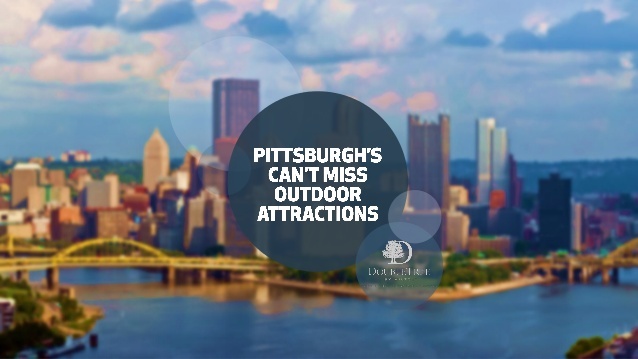 September 22, 2015 - Surrounded by rivers, trail ways and plenty of green space, Pittsburgh is an urban oasis full of adventure and opportunity to explore the great outdoors. Whether you're looking to grab a quick breath of fresh air or take a day long excursion, discover all the outstanding outdoor activities Pittsburgh has to offer with help from the DoubleTree by Hilton Hotel & Suites Pittsburgh Downtown.
Western Pennsylvania is home to some of the most diverse landscape in all the country, and Pittsburgh is the perfect outdoor playground that allows travelers to enjoy all the conveniences or an urban setting coupled with endless opportunity for outdoor adventure.
Start your own outdoor adventure and catch all the action of excitement as the Pittsburgh Pirates chase down another playoff berth at PNC Park. Consistently ranking among the top ballparks in America, PNC Park's welcoming atmosphere, traditional stylings and stunning skyline views brings in fans from all over the country. If you're looking for a view from the other side of the city, hop aboard an incline and head to the top of Mt. Washington, featuring one of the best city skyline views in all the country.
Over the past decade, Pittsburgh has made national news for their urban transformation, and there may not be a better example of such than the city's Strip District. Once packed with abandoned warehouses, The Strip District has been reenergized into one of Pittsburgh's most popular weekend attractions. Whether you're looking for farm-fresh veggies or some uniquely Pittsburgh apparel, you'll definitely want to stop by the Strip.
At the center of Pittsburgh's transformation is the newly renovated Market Square. Located in the city's center, Market Square is one of the best places to grab a bite to eat and people watch. No matter the time of day, you can be sure to find an eclectic mix of both fanfare and activity in Market Square.
If open green space is what you're after, take a stroll through one of the city's sprawling parks. Schenley, Frick, and Highland Parks are just a small sampling of the endless greeneries in the city limits. Home to countless nature trails, swimming pools and recreational activities, the parks are a perfect way to escape and unwind from the hustle and bustle of the city.
Whether you're staying in the city for a weekend or a whole week, there is always an adventure awaiting you around every corner in Pittsburgh, Pennsylvania. Discover what outdoor adventure is in store for you by visiting
http://www.doubletreepittdowntown.com/pittsburghs-cant-miss-outdoor-attractions-slideshow/
.
Stay in the center of all the action by booking your downtown Pittsburgh accommodations at the DoubleTree by Hilton Hotel & Suites Pittsburgh Downtown. Located in the heart of the city's Cultural District, the DoubleTree Pittsburgh Downtown places guests just a short walk from the city's top attractions. Book your stay in the DoubleTree Pittsburgh Downtown today by visiting
http://www.doubletreepittdowntown.com/
Email DoubleTree by Hilton Hotel & Suites Pittsburgh Downtown