Vinyl Bean Bags & Memory Foam Linked to Cancer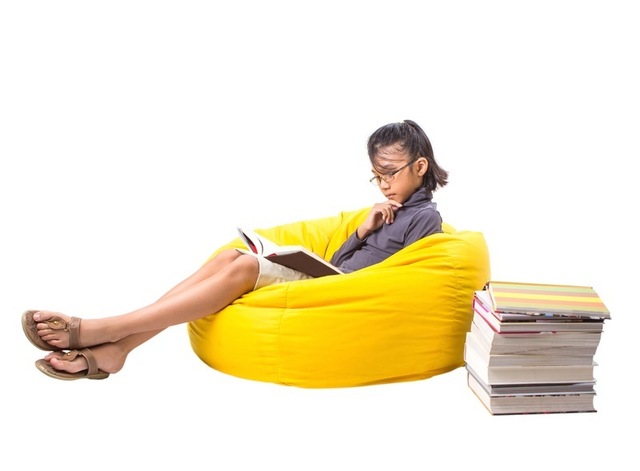 September 22, 2015 - Researchers and government agencies have found that vinyl bean bag covers and foam bean bag filling are associated with various forms of cancer, and they must carry warning labels when sold in California.
Bean Bags R Us recently completed a meta-analytic research project showing that vinyl bean bag covers and memory foam chunks used as bean bag filling pose significant health risks to children and adults. The research reveals a strong correlation between people who spend time around bean bags with vinyl covers and bean bag filling comprised of memory foam blocks and increased rates of cancer and birth defects. Because of this threat, officials in California are now requiring all manufacturers and distributors to affix Proposition 65 warning labels to all such products being sold in the state.
Several medical studies conducted within the past decade have determined that when vinyl is used as a fabric, it may pose several serious health risks. The first problem with vinyl is that it off-gasses vinyl chloride, a colorless gas that has long been associated with numerous illnesses, long-term medical conditions and terminal diseases. When people inhale vinyl chloride, they may experience one or more of the following side effects:
Headache
Dizziness
Drowsiness
Eye irritation
Respiratory tract irritation
When exposure to vinyl chloride increases over time, the risk of developing a serious medical condition also increases, and the U.S. Environmental Protection Agency (EPA) has classified this compound as a Group A human carcinogen. A few of the conditions caused by vinyl chloride exposure are as follows:
Disruption of the central and peripheral nervous systems
Kidney failure
Liver disease
Bone and joint deterioration
Decreased male fertility
Increased risk of birth defects
Higher risk of miscarriage
Brain, lung and liver cancer
Another problem with textile-grade vinyl is that it is treated with other chemicals to maximize its pliability and elasticity. One of these chemicals is a plasticizer by the name of diisononyl phthalate (DiNP). DiNP prevents vinyl fabric from cracking by increasing its suppleness, but medical researchers have determined that excessive exposure to this compound may cause one or more serious types of cancer, including liver cancer, bone cancer, blood cancer, kidney cancer, pancreatic cancer and uterine cancer.
In December 2013, the Office of Environmental Health Hazard Assessment (OEHHA) in California concluded that DiNP meets all of the conditions for inclusion in the list of substances covered by Proposition 65, also known as the Safe Drinking Water and Toxic Enforcement Act of 1986. This list now includes more than 900 compounds that can only be sold within the state when accompanied by a health-warning label that reads as follows:
"WARNING: This product contains chemicals known to the State of California to cause cancer and birth defects or other reproductive harm."
All of the substances on the Proposition 65 list have been found to cause cancer, birth defects or reproductive problems in at least one out of every 100,000 people.
In addition to the health risks imposed by vinyl bean bag covers, consumers are warned to avoid bean bags with filling made of memory foam. Many of these cheap bean bags are filled with chunks of memory foam rather than virgin EPS beads. Unlike EPS beads, memory foam off-gasses several different chemicals that are harmful to human health:
Acetone can be toxic when inhaled as a gas.
Dimethylformamide has been found to damage internal organs.
Methyl benzene may cause damage to the central nervous system.
Vinylidene chloride is a respiratory irritant that has been linked to cancer.
About Bean Bags R Us
Bean Bags R Us was founded in September 2011 with the mission of offering high-quality bean bags and bean bag furniture that cannot be found in other stores. The company maintains a large and loyal customer base by providing excellent customer service and products that have been tested to meet the highest standards of comfort, practicality and aesthetic design.
All of the bean bags sold by Bean Bags R Us include covers made of durable, high-quality nylon or polyester.
Inferior vinyl bean bags are never handled by the company nor are they ever made available for sale.
In addition, Bean Bags R Us uses only virgin EPS bean bag beads to fill its bean bag furniture, and the company does not support the use of memory foam in its products.
For further information on the possible toxicity of vinyl and memory foam bean bags, visit the Bean Bags R Us Australian blog.