The Law Office of Mahmoud R. Rabah Releases Their Guide to Protecting Yourself From False Criminal Charges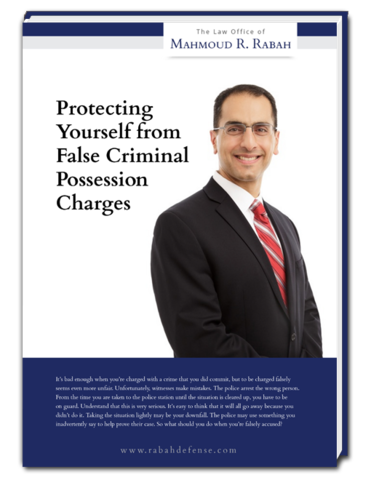 September 23, 2015 - Court cases are nothing to take lightly, especially when you find yourself up against false allegations for a crime you did not commit. Make sure you know what to do if you're falsely accused of criminal possession with help from The Law Office of Mahmoud R. Rabah.
The first step to protecting yourself and your rights in any legal situation is knowing your rights in any given situation. Under The Bill of Rights, all accused parties are to be considered innocent unless proven guilty. In order to be found guilty of any crime, the prosecution must prove beyond reasonable doubt that you have in fact committed the crimes you have been charged with.
One of the most important things you can do if you are brought in for questioning is to request legal representation as soon as possible. Beyond your name, address and date of birth, wait until a lawyer is present before divulging any more information over to an investigating officer.
Once your lawyer is present, he or she can advise you on questions you should and should not answer. Together, you can create a strategy that will help you prepare your defense and protect your innocence. When creating your defense strategy, write down as many details as possible about your case, helping your defense attorney create a case should your accusations be brought to a court of law.
While a competent criminal defense attorney will handle most of the legal particulars for your case, you should do your homework about the allegations ahead of you. Knowing the detailed information about criminal offenses, your rights and the legal process will help better prepare you to fight off your charges.
If your case is brought to court, make sure you have an experienced attorney on your side to help you navigate through the litigation process. Be proactive in your approach to protecting your innocence, and make a list of witnesses who can testify that you are, in fact, innocent of any accused crimes.
Being falsely accused of a crime is nothing to take lightly. Make sure you know what to do if you are facing false charges by checking out the guide from The Law Office of Mahmoud R. Rabah, available for download at
http://rabahdefense.com/offers/
.
Don't trust the police or the prosecutors. Your criminal defense attorney is the one advocate on your side that you can rely on. Make sure you choose a champion in the courtroom by getting in touch with The Law Office of Mahmoud R. Rabah by visiting
rabahdefense.com
.
Email The Law Office of Mahmoud R. Rabah