MATRIX LMS announces integration with 400+ apps via Zapier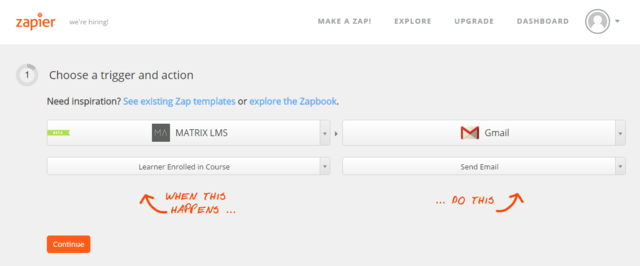 MATRIX
, the simple powerful LMS for businesses, recently announced its integration with Zapier. Zapier is a popular, easy-to-use service that allows you to integrate over 400 different apps using a point-and-click interface, with no programming required.
Sometimes companies have two very different platforms that are critical for their business and needs them to work together. Instead of waiting for an official integration or hiring an expensive developer to build the integration, Zapier allows companies to connect them on one central desktop. For example, Zapier lets you send an email to create a task in Trello and can immediately backup your Evernote documents to your company Dropbox account.
The
MATRIX app on Zapier
allows you to integrate MATRIX with 400+ other apps. You can use the MATRIX integration to do things like "when a user purchases a course via my third-party shopping cart, create them an account on MATRIX and enroll them into courses A, B, and C".
CEO of MATRIX, Graham Glass, said:
"We're very happy to partner with Zapier because it allows our customers to integrate MATRIX easily and quickly access so many useful apps."
About MATRIX LMS
MATRIX
is a simple, powerful LMS for businesses that makes it easy to deliver online training. The company was founded in 2010 by Graham Glass, the CEO of MATRIX LMS and a serial entrepreneur with a track record of innovation. MATRIX is a product of
CYPHER LEARNING
which also provides
NEO
for schools and universities.