IVC Filter Lawsuits Move Forward Against C.R. Bard, As MDL Court Schedules Initial Conference, Bernstein Liebhard LLP Reports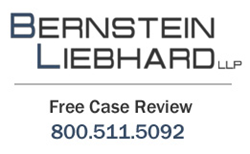 September 30, 2015 - The federal litigation established last month for federally-filed IVC filter lawsuits (
http://www.ivcfilterlawsuit2015.com/
) involving C.R. Bard, Inc.'s Recovery and G2 retrievable inferior vena cava filters is beginning to move forward. According to an Order issued in the U.S. District Court, District of Arizona on September 15th, the proceeding's Initial Status Conference will be convened on October 29th at 10:00 a.m. The parties have been directed to submit a proposed agenda to the Court by October 9th. The Order also stays all outstanding discovery and disclosure pending the conference. (In Re: Bard IVC Filters Products Liability Litigation – MDL No. 2641)
"Our Firm is investigating a number of claims on behalf of patients who suffered inferior vena cava perforations and other serious injuries due to the allegedly defective design of Bard's Recovery and G2 IVC filters. We are pleased that the federal multidistrict litigation is beginning to move forward, and look forward to more progress in the weeks to come," says Sandy A. Liebhard LLP, a partner at Bernstein Liebhard LLP, a nationwide law firm representing victims of defective drugs and medical devices. The Firm is currently evaluating IVC filter lawsuits on behalf of individuals who may have been harmed by these products.
IVC Filter Litigation
The Bard Recovery IVC filter was brought to market in 2003, and replaced with the G2 system just two years later. Both devices are implanted into the inferior vena cava in order to catch blood clots before they can travel to the lungs and become a pulmonary embolism. The filters are intended to be removed once the blood clot threat has passed.
Court documents indicate that at least 50 IVC filter lawsuits are now pending in the District of Arizona, all of which claim that the Recovery and G2 devices are prone to fracture, migrate, tilt or perforate the inferior vena cava, resulting in serious injury to patients. Plaintiffs also accuse C.R. Bard of failing to provide doctors with adequate warnings regarding the importance of removing the filters once a patient is no longer in danger of suffering blood clots, as failure to retrieve the devices greatly increases the risk of injury and complications.
Since 2010, the U.S. Food & Drug Administration (FDA) has issued two safety alerts regarding the use of retrievable IVC filters. In March 2010, the agency disclosed that it had received more than 900 adverse event reports involving the devices, including incidents of migration, fracture and embolization, and perforation of the inferior vena cava. In May of last year, the
FDA issued a second notice
to remind doctors that retrievable IVC filters should be removed within 29 to 54 days of their implantation.
Bernstein Liebhard LLP is now offering free IVC lawsuit reviews to individuals who suffered complications allegedly associated with C.R. Bard's Recovery or G2 devices.
To discuss a case
with one of the Firm's IVC filter lawyers, please visit the Bernstein Liebhard LLP website, or call 800-511-5092 to arrange for a free, no-obligation legal consultation.
About Bernstein Liebhard LLP
Bernstein Liebhard LLP is a New York-based law firm exclusively representing injured persons in complex individual and class action lawsuits nationwide since 1993. As a national law firm, Bernstein Liebhard LLP possesses all of the legal and financial resources required to successfully challenge billion dollar pharmaceutical and medical device companies. As a result, our attorneys and legal staff have been able to recover more than $3.5 billion on behalf of our clients. The Firm was named by The National Law Journal to the Plaintiffs' Hot List, recognizing the top plaintiffs firms in the country, for 12 consecutive years. Bernstein Liebhard LLP is the only firm in the country to be named to this prestigious list for a dozen consecutive years.
Bernstein Liebhard LLP
10 East 40th Street
New York, New York 10016
800-511-5092
ATTORNEY ADVERTISING. © 2015 Bernstein Liebhard LLP. The law firm responsible for this advertisement is Bernstein Liebhard LLP, 10 East 40th Street, New York, New York 10016, 800-511-5092. Prior results do not guarantee or predict a similar outcome with respect to any future matter.
Contact Information:
Sandy A. Liebhard, Esq.
Bernstein Liebhard LLP
info(at)consumerinjurylawyers(dot)com
http://www.ivcfilterlawsuit2015.com/
https://plus.google.com/115936073311125306742?rel=author
Email IVC Filter Lawsuit Information Center