UK Car Discount Accelerates To September Milestone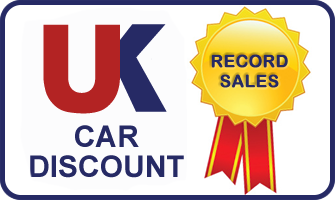 October 6, 2015 - UK Car Discount one of the UK's leading online new car dealers hit record sales in September.
'Since the company's inception in 2003 we have built our reputation on providing a first class service and big discounts' said MD Brian Bennett 'Don't just take our word for it, look us up on Trust Pilot and see what our customers are saying about us'.
Since UK Car Discount was founded the company has seen some ups and downs in the UK new car market. Currently the market is flourishing and building on their excellent reputation UK Car Discount has hit a new record milestone in September.
'It's remarkable how quickly things have changed since we went into business' said Director Gary Bennett 'We sell a larger percentage of smaller cars now with many new car buyers keen on lowering running costs, superminis like the Fiesta are very popular and of course we've seen the emergence of hybrid cars and the start of the full electric revolution'.
UK Car Discount's website can be accessed at
www.uk-car-discount.co.uk
, the website provides the perfect platform for users to register, search for and pinpoint their ideal new car with £1000's in discount on most models. Once registered users can access their virtual showroom and add multiple vehicles for comparison.
'Much like the new car technology, the way users access our website has moved on very quickly' said MD Brian Bennett 'There's a much bigger emphasis on mobile and tablet devices now which accounts for about 50% of site visitors so the website is constantly evolving'.
UK Car Discount plans to launch a new website in the next week with improved support for mobile and tablet devices.