Niyato Industries Inc. fights for their vision, bringing back the F150 5.0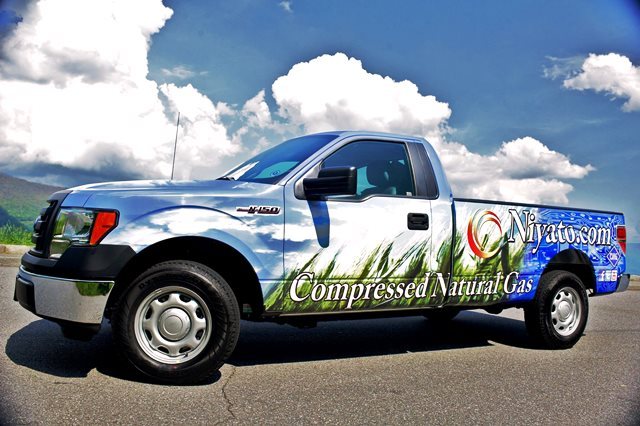 October 7, 2015 - When Ford announced it would produce the F-150 in 2012 with the 3.7 liter engine for 2013, rather than the much more powerful 5.0 V8 engine, Leslie Stencil CEO of Niyato Industries Inc., the world leader in natural gas and propane technology, arranged to personally meet with Ford's Sr. Marketing Director and Sustainability Program Manager for Commercial Vehicles, to convince Ford to add the F150 5.0 liter engine to the gaseous prep family of vehicles.
Stencil even had a purchase order in hand for 6,000 Regular Cab Long wheel base F150 XL 5.0s, the natural gas powered F150 commercial vehicle. Despite his valiant efforts, Ford turned him down, indicating that they still planned to go ahead with the 3.7 liter engine without the 5.0.
On to Plan B. Stencil contacted the same people that cryogenically hardened the valves, valve seats and valve guides for both Ford and GM and presented the hardened parts as a package to Ford. A determined Stencil was prepared to deliver the parts just in time as the 5.0 Liter Fords were to be built. But his offer was declined yet again. He explained to Ford that the 5.0 liter engine was the backbone of the American fleet industry. It needed to be added because thousands of fleet vehicles would benefit from clean-burning natural gas. Thousands of users could benefit from the lower price of natural gas.
BINGO. Stencil's vigilance paid off.
After three years and 20,000 miles in the "N150 5.0" (coined by Stencil) and hundreds of appearances all across the country, Stencil finally put enough pressure on Ford to add the 5.0. to the gaseous prep family Mission accomplished.
This is but one way in which Niyato Industries Inc. will be introducing their game-changer of a product to the American public, altering life as we know it and adding Leslie Stencil to the ranks of the other American visionary icons. Keep an eye out as more plans are unveiled from this forward-thinking company.
About Niyato Industries Inc.
The company was founded by Mr. Leslie Stencil through his relentless pursuit to change the way Americans think about their fuel and to give the American people a transportation fuel alternative. (Natural Gas and propane) Niyato Industries is also taking the initial steps to prepare the company to go public.
Safe Harbor Statement – This release includes forward-looking statements within the meaning of Section 27A of the Securities Act of 1933 and Section 27E of the Securities Act of 1934. Statements contained in this release that are not historical facts may be deemed to be forward-looking statements. Investors are cautioned that forward-looking statements are inherently uncertain. Actual performance and results may differ materially from that projected or suggested herein due to certain risks and uncertainties including, without limitation, ability to obtain financing and regulatory and shareholder approvals for anticipated actions. Such statements are based on management's current expectations and are subject to certain factors, risks and uncertainties that may cause actual results, events and performance to differ materially from those referred to or implied by such statements. In addition, actual or future results may differ materially from those anticipated depending on a variety of factors, including continued maintenance of favorable license arrangements, success of market research identifying new product opportunities, successful introduction of new products, continued product innovation, sales and earnings growth, ability to attract and retain key personnel, and general economic conditions affecting consumer spending. Readers are cautioned not to place undue reliance on these forward-looking statements, which speak only as of the date hereof.
For more information please visit Niyato Industries at
www.niyato.com
SOURCE: Niyato Industries
Market Services
James Gaiser, CMO
International: +704-791-7303
Email Niyato Industries Inc.