As Levaquin Lawsuits Mount, Bernstein Liebhard LLP Comments on New Study Suggesting Fluoroquinolone Antibiotics Increase Risk of Aortic Aneurysm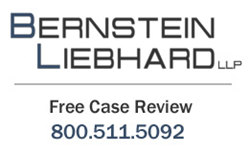 October 8, 2015 - As Levaquin lawsuits (
http://www.levaquinlawsuitcenter.com/
) continue to mount in U.S. courts, Bernstein Liebhard LLP notes that a new study suggests that patients using fluoroquinolone antibiotics may face an increased risk of aortic aneurysm and aortic dissection. The research, which was published online this week by
JAMA: Internal Medicine
, drew data from a pool of 1,477 patients hospitalized for aortic aneurysm or dissection from 2000 through 2011, all of whom were identified from 1 million patients in Taiwan's National Health Insurance Research Database. Each of those cases was compared to 100 controls, matched for age and sex, who were not hospitalized for these complications.
The analysis revealed that use of fluoroquinolones was associated with an approximately 2-fold increase in the risk of aortic aneurysm and dissection within 60 days of exposure. According to the authors of the study, fluoroquinolones have been associated with several collagen-related disorders, including Achilles tendon rupture, tendinopathy, and retinal detachment. Collagen is also a major extracellular matrix component of the aortic wall.
"Our Firm is currently investigating legal claims on behalf patients who allegedly suffered permanent nerve damage and peripheral neuropathy due to their use of Levaquin and other fluoroquinolone antibiotics. These findings are yet another reminder that these powerful medications may be associated with some very serious side effects," says Sandy A. Liebhard LLP, a partner at Bernstein Liebhard LLP, a nationwide law firm representing victims of defective drugs and medical devices. The Firm is offering free, no-obligation Levaquin lawsuit reviews to patients who may have been harmed by one of these antibiotics.
Fluoroquinolone Lawsuits
Fluoroquinolone antibiotics, such as Levaquin, Cipro and Avelox, have been used to treat millions of people suffering from bacterial infections, including pneumonia, urinary tract infections, E. coli, salmonella, and staph infections. However, the drugs are known to be associated with a number of complications, including the onset of serious nerve damage and permanent peripheral neuropathy. These side effects have been noted on the drug's labels since 2004. However, in 2013, the U.S. Food & Drug Administration (FDA) ordered fluoroquinolone manufacturers to modify their product labels to warn that peripheral neuropathy may occur soon after these drugs are taken and may be permanent.
Since then, scores of people have filed Levaquin lawsuits and other fluoroquinolone claims that accuse the drug's manufacturers of failing to adequately warn doctors and patients about the potential for serious nerve damage and peripheral neuropathy. In July, all federally-filed claims of this nature were consolidated in a multidistrict litigation and transferred to the U.S. District Court, District of Minnesota for the purposes of coordinated pretrial proceedings. As of September 15th, nearly 200 cases were pending in that proceeding. (In Re: Fluoroquinolone Products Liability Litigation – MDL No. 2642)
Individuals who were diagnosed with permanent peripheral neuropathy allegedly due to their use of a fluoroquinolone antibiotic may be entitled to compensation for medical bills, lost wages, pain and suffering, and more. To
learn more
about filing a Levaquin, Cipro or Avelox lawsuit, please visit Bernstein Liebhard LLP's website. Free, no-obligation legal consultations can also be obtained by calling 800-511-5092.
About Bernstein Liebhard LLP
Bernstein Liebhard LLP is a New York-based law firm exclusively representing injured persons in complex individual and class action lawsuits nationwide since 1993. As a national law firm, Bernstein Liebhard LLP possesses all of the legal and financial resources required to successfully challenge billion dollar pharmaceutical and medical device companies. As a result, our attorneys and legal staff have been able to recover more than $3.5 billion on behalf of our clients. The Firm was named by The National Law Journal to the Plaintiffs' Hot List, recognizing the top plaintiffs firms in the country, for 12 consecutive years. Bernstein Liebhard LLP is the only firm in the country to be named to this prestigious list for a dozen consecutive years.
Bernstein Liebhard LLP
10 East 40th Street
New York, New York 10016
800-511-5092
ATTORNEY ADVERTISING. © 2015 Bernstein Liebhard LLP. The law firm responsible for this advertisement is Bernstein Liebhard LLP, 10 East 40th Street, New York, New York 10016, 800-511-5092. Prior results do not guarantee or predict a similar outcome with respect to any future matter.
Contact Information:
Sandy A. Liebhard, Esq.
Bernstein Liebhard LLP
info(at)consumerinjurylawyers(dot)com
http://www.levaquinlawsuitcenter.com/
https://plus.google.com/115936073311125306742?rel=author
Email Levaquin Lawsuit Information Center