Donate to S.C. Flood Relief Fund at YourFoundation.org to Send 100% Directly to Local Disaster Aid Orgs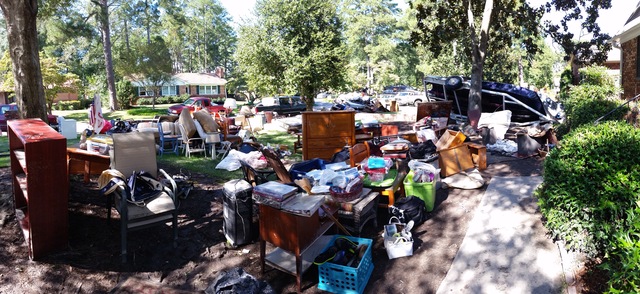 October 9, 2015 - Deadly, record-smashing rainfall has caused massive flooding across the eleven Midlands counties served by Central Carolina Community Foundation in Columbia, S.C. In response, the Foundation has established a national S.C. Flood Relief Fund to address the pressing needs of flood disaster victims – both short and long term. 100% of monies donated will go directly to local grassroots organizations aiding those in need. To donate, go to
https://www.YourFoundation.org/SCFloodRelief
.
The Foundation's board has provided initial funding of $50,000, and additional donations have been received from across the country. Harvest Hope Food Bank, a nonprofit food pantry that offers direct support to individuals via more than 400 member partners in 20 counties statewide, is the recipient of the first fundraising grant from the Foundation's S.C. Flood Relief Fund.
"Our Foundation is in touch with other community foundations nationwide that have faced disasters, including those in New Orleans, Bismarck, ND and Nashville. Based on their experiences, we know that our community will need help for many months – perhaps years," said JoAnn Turnquist, President & CEO of Central Carolina Community Foundation. "Every donation we receive will help our community recover and rebuild."
The Foundation serves eleven counties in the Midlands region of South Carolina, including those hardest hit by flooding. For 31 years, the Central Carolina Community Foundation has served the Midlands. Because the Foundation manages funds for nonprofits and private donors, and distributes grant monies and scholarships as part of its daily operations, the infrastructure is already in place to accept online donations and distribute 100% of monies donated to organizations helping flood victims.
"Our thoughts and prayers are with everyone who has been affected by the flooding," says Turnquist. "The outpouring of support from friends and strangers has been tremendous. Clean up and rebuilding will take time, but we are resilient."
About Central Carolina Community Foundation:
Central Carolina Community Foundation is a nonprofit organization serving 11 counties in the Midlands by distributing grants and scholarships and linking the resources of donors, nonprofits and area leaders to communities in need. For more information about the Foundation, visit
www.yourfoundation.org
or call 803.254.5601.
Email Flock and Rally: Events + Communications for a Brave New South