Book the Miami Vacation of a Lifetime with Help from the DoubleTree Ocean Point Resort & Spa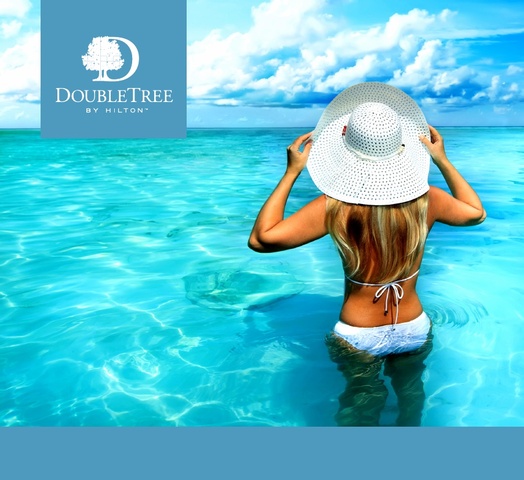 October 14, 2015 - Bringing in over 14 million visitors a year, it's no wonder that Miami Beach is one of the top vacation destinations in the entire world. Discover the adventure that awaits your next dream getaway to Miami with a little help from the DoubleTree Ocean Point Resort & Spa.
Miami is truly an exhilarating city, filled with atmosphere that radiates excitement and an eclectic mix of activities that mean the fun truly never stops. To truly capture all the glitz, glamour and exciting of the city, stay at one of the resorts in Miami Beach, granting you even more opportunity to soak in the sun and enjoy the finer side of things.
While hotels provide only the very basics in both accommodations and amenities, resorts in Miami truly add to the city's sense of luxury by combining the finest accommodations with the finest amenities in the city. From private access beaches and balconies overlooking the ocean to luxury spas and on-site restaurants, resorts are the way to go if you're looking to take your getaway to the next level.
Undoubtedly your vacation will involve a lot of time spent both at your Miami resort and on the beach, but don't forget to save some time for Miami's other attractions and must-sees that you won't want to miss during your trip. The city is home to some of the country's finest foods, parties and much more.
Heavily influenced by its eclectic communities and cultures, the food scene in Miami truly must be tasted to be believed. Get a sample of Latin flavors with a trip to Little Havana, or take in some stunning views of the city skyline out at The Rusty Pelican.
Miami's party atmosphere pulsates all around the city. Whether you're looking to party like a pro amongst A-List celebrities, dance the night away in a sultry salsa club or prefer sipping a cocktail right on the beach, Miami is the perfect place to party it up.
No matter what your reason for vacation may be, a trip to Miami Beach is certainly a great way to getaway. Start planning your resort vacation in Miami today by visiting
www.oceanpointresort.com/booking-a-miami-resort-vacation-white-paper
.
For Miami Beach accommodations that fit perfectly alongside the city's sense of style and luxury, book your resort accommodations today at the DoubleTree by Hilton Hotel & Suites Miami Beach Resort & Spa. Our North Miami Beach hotel rooms and suites feature breathtaking ocean views, all the luxuries of home and much more. Discover all that awaits you when you book your Miami Beach Resort accommodations with the Ocean Point Resort & Spa by visiting
www.oceanpointresort.com
.
Email DoubleTree by Hilton Hotel & Suites DoubleTree Ocean Point Resort & Spa