Maximize Space on Your Next Move with Help from MoveValet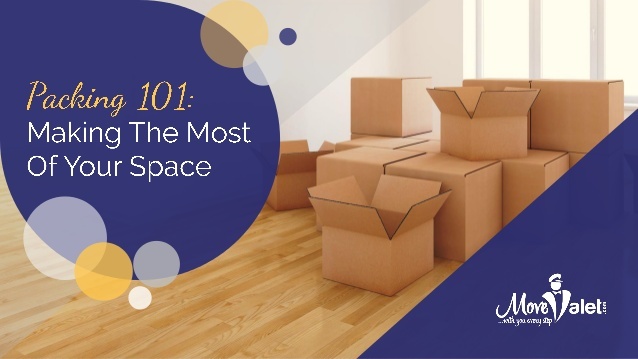 October 15, 2015 - Whether you are moving across the town or across the country, moving can quickly become one of life's more stressful endeavors, especially when it comes to packing. Let the professional packers and movers at MoveValet toss your packing problems aside with their tips on how to make the most of your space.
One of the first things you should do as you start getting ready for your moving day is to take stock of your moving and packing supplies. Making sure you have the proper materials and properly sized moving boxes will save you a ton of time while boxing up your belongings. Make sure to collect an assortment of boxes small and large, as well as specialty moving boxes for dishes and clothes.
Before you start packing, make an effort to clear some floor space in the home and use each location to keep you organized. Designate one area for packed boxes to move, one for charity donations, one room to of things to sell and another of things to give away. This more organized approach to packing will help streamline your process.
Another pre-packing item to take care of is to set a schedule to help keep you on track. Giving yourself some small packing goals in the weeks leading up to your move will help make the process much less stressful, and knowing that there is a plan in place will help you keep your sanity as you prepare for a stress-free moving day.
As you make your way through your belongings, it's important that you sort and label everything appropriately. Make sure to keep your items organized by room, and don't forget to put aside a to-go box as well as an essentials box to get you through the first couple of nights at your new home. Labeling each and every box will help
According to the movers and packers at MoveValet, one of the most common mistakes homeowners make while moving is using trash bags as a packing alternative. While trash bags will certainly hold a lot of stuff, they are often confused amongst the chaos of moving day and may get tossed aside. If you absolutely have to use a trash bag to transport some of your belongings, make sure to keep the bag clearly labeled, or purchase a bag in a different color than the ones you use for your rubbish.
Like most things in life, being prepared is the best thing you can do as you get ready for your move. Make sure you know how to start your packing process by following along with the moving tips from MoveValet by visiting
https://movevalet.com/blog/packing-101-making-the-most-of-your-space-slideshow
.
If you're really looking for a way to remove all the stress from your moving day, get in touch with the pros at MoveValet. Our professional moving services are fully customizable, allowing you to personalize your moving plan to meet your unique needs. Discover what the professional packers and movers from MoveValet can do for you by visiting
movevalet.com
.