Tudi Helps Homeowners 'Go Green' with Their Latest White Paper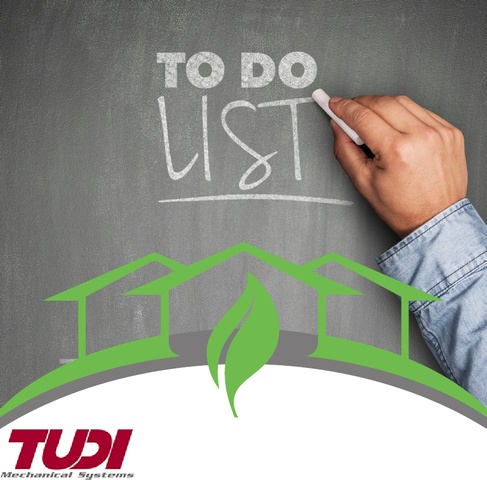 October 15, 2015 - Aside from all the environmentally friendly reasons, cutting back on costs is one of the biggest reasons more and more homeowners are going green with their home's mechanical systems. Find out how you can take advantage of these extra savings every month with help from Tudi Mechanical Systems.
In every room of the home, there are plenty of opportunities to save money while reducing your carbon footprint. Reaching out to one of Tudi's professional technicians can help you identify areas of opportunity in your home and help the entire family do their part and work towards a greener Earth.
Your home's heating and cooling systems account for almost half of your entire household energy usage, making it the clear place to start cutting back on your energy usage. In the winter time, consider dropping the temperature on your thermostat down a degree or two while doing just the opposite over the summer season. It may not seem like a big change, but the small savings can quickly add up. If your home's heating or cooling system is a bit outdated, Tudi suggests investing in a new, energy-efficient model to help make your household a little greener.
October 15, 2015 - Household plumbing systems are also a cause of concern in terms of efficiency and usage. Leaky pipes and dripping faucets can quickly add up, while decreasing water pressure all throughout the home. Make it a point to check all your home's faucets, pipes, shower heads and other plumbing fixtures in the home for leaks and drips. You may even want to consider buying an energy-efficient washer, or a low-flow shower head to help you conserve water.
Another area of the home to pay attention to when looking for opportunities to cut back on your home's energy consumption is the electrical systems in your home. While it may seem like common sense to turn off all lights, fans and other electrical appliances in unoccupied rooms, many of us still leave appliances on standby or overcharge devices, leading to unnecessary electrical costs in the home. The Pittsburgh electricians from Tudi can help you save even more money by replacing outdated wiring and installing energy-saving light bulbs throughout your home.
To learn even more ways you can reduce your energy usage and cut back on utility costs throughout the home, check out Tudi's white paper by visiting
http://info.tudi.com/blog/green-energy-checklist-for-the-home-white-paper
.
Since 1987, Tudi's exceptional team of designers, installers, plumbers, project managers and maintenance technicians have been committed to providing energy-efficient benefits to homeowners all throughout the Pittsburgh area. Discover how Tudi can help keep your home comfortable all year round by visiting
www.tudi.com
.
Email Tudi Mechanical Systems