Make a Good Impression in the Courtroom with Help from The Law Office of Mahmoud R. Rabah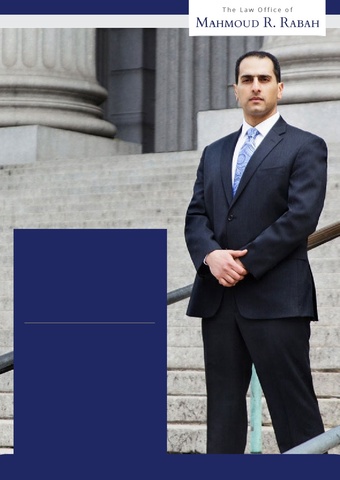 October 22, 2015 - If you find yourself facing criminal charges in New York City, there are some things you can do to worsen your case. Make sure you know what to steer clear of in the courtroom with a little help from The Law Office of Mahmoud R. Rabah.
First impressions are everything, and the same statement holds true in a court of law. If you're set to stand trial, there are a lot of things you can do that may either drastically help or hinder your case. If you can manage to make a good impression in the courtroom, you may just find yourself in a better position to win your case.
According to The Law Office of Mahmoud R. Rabah, making a lasting impression in your trial starts with your appearance. Dress in a humble manner, wearing an outfit similar to what you would wear to a job interview to present the best defense possible. While waiting for your case to be brought in front of the judge, be respectful and shut off any electronic devices you may have on your person.
When in front of the judge and the trial is underway, it is important to remember to be as polite and respectful as possible. Having side conversations is an easy way to annoy a judge, while whispering and murmuring will certainly cause a stir in the courtroom. Better than risk your courtroom reputation, try to keep talking to a minimum and speak only when spoken to.
New York City Court Docket sheets can quickly become cluttered, so you may want to bring a snack or small lunch to help ease your hunger pains throughout the day. However, if you do choose to eat make sure it takes place outside of the courtroom and away from the proceedings.
If you have to bring children to the courthouse, make sure they are also aware of proper courtroom etiquette. Unruly children could reflect poorly on you, so if it's at all possible look to hire a babysitter or have a family friend watch over your kids the day of your trial.
Making sure that you don't do anything overly distracting during your trial can help you avoid getting in trouble with the judge before the case even begins. Calm your courtroom nerves and check out The Law Office of Mahmoud R. Rabah's guide on proper courtroom etiquette by visiting
http://rabahdefense.com/news/courtroom-etiquette-in-new-york-city-white-paper/
.
If you are unfortunate enough to find yourself fighting for your innocence in a New York City Court of Law, turn to a criminal defense attorney you can trust by contacting The Law Office of Mahmoud R. Rabah. Taking a proactive approach to criminal defense Mr. Rabah is a true champion of the courtroom, working endlessly as he fights for your innocence every step of the way. If you're looking for an experienced attorney with a proven track record to back him up, get in touch with Mr. Rabah today and visit
http://rabahdefense.com/
Email The Law Office of Mahmoud R. Rabah