Know What to Ask During Your Initial Consultation with Pittsburgh Attorneys with Help from Allegheny Attorneys at Law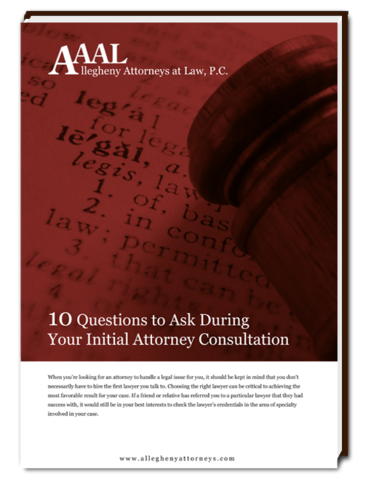 October 23, 2015 - Choosing the right lawyer can be critical to achieving the most favorable result for your case, so make sure you make the right choice by downloading '10 Questions to Ask During Your Initial Attorney Consultation' from Allegheny Attorneys at Law
When you're looking for an attorney to handle a legal issue for you, it should be kept in mind that you don't necessarily have to hire the first lawyer you talk to. Many Pittsburgh law firms offer low-fee or free consultations with an attorney, giving you the opportunity to 'interview' the legal team to determine if they are the right fit to represent you.
Making sure you are prepared for your attorney consultation may just make the difference when it comes to your results in the courtroom. Take some time to assess your legal situation, and write down any questions related to your case that might affect your decision.
According to Allegheny Attorneys at Law, one of the most important questions you can ask during your initial consultation is a lawyer's experience. Should your case be brought to litigation, your lawyer's experience can make a big difference in the outcome of your case.
Another thing you'll want to pay attention to during your initial consultation is an attorney's strategy for conducting your case. Knowing whether the strategy will involve you personally testifying, and whether the approach will focus on attempting to strength your case or weaken your opponent's will be vital information to helping narrow down your decision.
During the legal process, attorney and legal fees can quickly add up. Use your initial consultation to determine just how much an attorney's services will cost you, helping to ensure you stay within your budget on any legal matters.
If you are facing legal obstacles in your life, make sure you make the most informed decision possible when choosing a lawyer and download your free guide to attorney consultations by visiting
http://www.alleghenyattorneys.com/offers/
.
No matter what your legal concerns may be, the experienced Pittsburgh attorneys of Allegheny Attorneys at Law will work hard to help you navigate through the legal process. To learn more about how Allegheny Attorneys at Law can help you, please visit
http://www.alleghenyattorneys.com/default.htm
.
Email Allegheny Attorneys at Law, P.C.