Tactic Games is On a Roll with New Dice Alias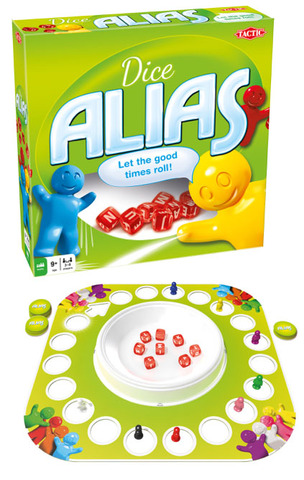 October 26, 2015 - All of the fun of the company's popular game brand, Alias, is now rolling out in a fun new way as Tactic Games today announced the nationwide availability of its Dice Alias game.
Dice Alias brings a totally new element to Tactic's highly successful Alias family of games. Alias games all have one element in common, in which players explain words by using synonyms, opposites and other clues without mentioning the actual word they are describing. The new Dice Alias adds a fun way to identify which words players will describe and try to get other players to "roll" off their tongues.
Jay Knox, President of Tactic Games, said, "Dice Alias is sure to be another hit game in our line-up of Alias games. The dice give a brand new component to the fun factor of the game play. Since Dice Alias players need to identify their own words using the letter dice, every Dice Alias game is completely different and a whole new adventure."
To play Dice Alias (MSRP $20, for 3-8 plyers, ages 7+), players roll the dice (7 Letter dice and 1 Wild dice) into the bowl in the center of the board. The players can't touch the dice, but everyone plays at the same time by trying to form a 4-8 letter word using the dice. When a player identifies a word they shout "ALIAS" and then begin to describe the word they have identified to the other players and get them to correctly guess their word. The player who guesses the word and the clue giver each move up one space on the board and then play continues using the same roll. When players can no longer identify words with the dice, any player can grab the dice and roll again. The first player to move his or her pawn around the board to the finish line wins.
"A cool thing about Dice Alias is that players do not have to wait for their turn. They are either giving clues or trying to guess another players' clues. With everyone playing at the same time on every turn, the race to victory is more exciting than ever," Knox said.
Tactic Games also includes another way to challenge Dice Alias players. Choosing to use the Dice Alias category chips, players can still identify any word on the dice, but if they can identify a word that matches the category chip, then the clue giver and the guesser move forward two spaces instead of one space.
Dice Alias now joins the Tactic Games' cornerstone game franchise that began with the original Alias game (over 5 million sold worldwide). The Alias product family consists of games for kids, grownups, families and friends. The various Alias games are:
Alias Original ($20 for ages 7+) - The game that started everyone talking.is an entertaining game where the idea is to explain words in other words – without actually saying the word that is being explained. Players can help other team members guess as many words as possible within one minute. Just pick a card, check the word, and start talking – the idea of Alias is to explain as many words as possible to your teammates. The more words they guess right, the further you get to move on the game board.
Family Alias ($20 for ages 7+) The Alias game that is equally challenging to both children and adults. In this game, players use a spinner to see who you partner is for that round. For grownups there are special explaining styles that make the game even more hilarious.
Party Alias ($20 for teens and adults) - To get this Alias party started, it is like the original Alias, but if your pawn stops in a "Party" space, players will have to use just sounds, gestures, actions or motions to explain a word!
Junior Alias ($15 for ages 5+) - By playing this fast and fun Alias game, it is an easy way to expand vocabulary and practice cooperative interaction. Junior cards have a word and a picture to help make the explaining easier for younger players.
Travel Junior Alias and Travel Party Alias - Take-along-friendly versions of the Alias games.
About Tactic Games:
Tactic Group® is an international and fast growing developer and marketer of board games in Europe, now launching in the U.S. and Canada. For the past 48 years, the Finnish board game company has provided consumers with innovative, high-quality products that have been warmly received by the public, including award-winning Mölkky® and iKNOW®. Their mission is to produce entertaining games that offer moments of genuine delight and entertainment to family and friends the world over. To discover more about Tactic's wide range of games, visit
www.tactic.net/USA
and get all of the most up-to-date, immediate information by interacting with the company on its social media channels:
Facebook
,
Twitter
,
Pinterest
,
Instagram
and
YouTube
.
For product sales information, contact:
Jay Knox, Tactic Games, T: 216-288-0087;
Jay.Knox@tactic.net