Sheds Unlimited Releases Tiny House Designs in PA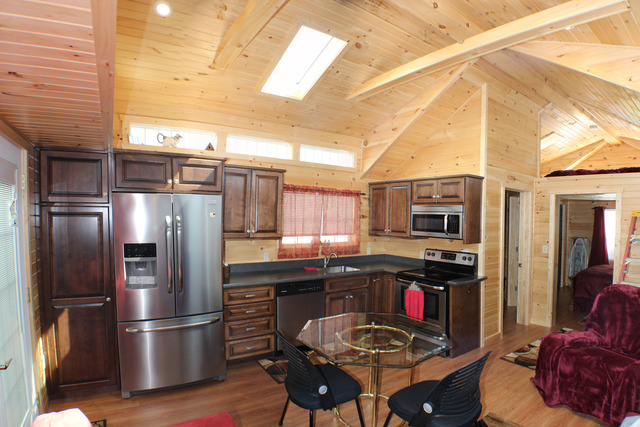 October 27, 2015 - Walk into the Tiny House Designed bySheds Unlimited LLC and your breath is nearly taken away. The beautiful 448 square foot Amish Shed turned small house offers plenty of light, a high ceiling, bedroom, laundry, a small bathroom and much more.
For twenty five years Sheds Unlimited has been a builder of Amish Storage Sheds and Garages in Lancaster, PA. Adding more products over these years has brought growth to this family owned and operated corporation. Beginning with a father son operation, Sheds Unlimited used innovation in the sheds and barns division and
prefab car garage
division to see huge growth over the past ten years. Now they are offering
Tiny Houses For Sale in PA
, but only until December 31, 2015.
Tiny Houses are a phenomenon of the century. Many folks today have tired of large estates and the upkeep associated with them. In addition, a greater concern with ecosmart living has brought the small homes fad into mainstream awareness. Sheds Unlimited has joined the small space movement by offering design and build portable office sheds, writing studios and even small art studio for homeowners across PA, NJ, NY, CT, DE, MD, VA and WV. In 2015 this movement has evolved into small houses that are both portable and very attractive.
Back inside the tiny house display model on the Sheds Unlimited lot (which is actually the home of the owner of Sheds Unlimited), you will find a bright atmosphere with plenty of windows throughout. The bedroom features a queen sized bed with space to walk around, a large walk in closet, a washer and dryer in the closet and space for a dresser. Move from the bedroom into a wide open foyer/kitchen/dining room and this tiny house becomes a lovely and inviting place indeed.
The kitchen in this tiny house for sale in PA has a full sized refrigerator, full sized oven and flat top stove, plenty of cabinet space all in a wide open space. Combined with the kitchen is the entrance foyer, sitting space and dining area. The wide open space makes one forget that this under five hundred square foot home is actually a tiny house. Look up from the sitting area and you will find loft area to house your guests or children. Between the sitting/dining area and the bedroom a small bathroom with a shower completes this tiny house in PA and makes it a fully functioning home.
Sheds Unlimited eventually hopes to offer tiny houses for sale year round, but space is limited in their current facility. "We hope to offer a full line of tiny houses, finished office sheds and much more with our new facility," says the marketing manager and long time employee at Sheds Unlimited. But for now, if you are looking for a tiny house in the next year, the time to order is before the end of 2015. Otherwise, these lovely small homes might not be available again until the winter of 2016 and your best choice might be to buy an
Amish Storage Shed in PA
and do the finishing touches yourself.
Email Sheds Unlimited LLC