MoveValet Teaches Homeowners to Pack Like a Pro in their Latest Infographic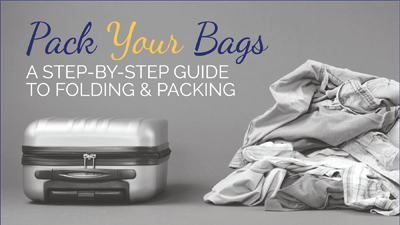 October 27, 2015 - Good packing is absolutely essential to a stress-free move. Make sure you know how to pack like a pro and turn to the professional packers and movers at MoveValet.
Before you even think about packing up your belongings, it's important to have a proper moving plan in place. A moving plan and a pre-move checklist can help keep you organized, one of the critical elements of a stress-free moving day. Once you have a plan in place, collect all the necessary moving supplies and packing materials to help you keep your belongings well protected and organized every step of the way.
Most full-service moving companies suggest that rather than tackling the whole house all at once, you should instead focus on packing up your home room-by-room over a two week period. Start with the attic or basement and make your way throughout the house to stay on schedule and keep you from rushing through your moving process.
One of the most difficult areas of the home to pack up is the bedroom closet. Keeping your clothes wrinkle free is no easy task, but knowing how to properly pack up your suitcase or specialty wardrobe box will definitely pay off. Use your shoes as a base, and then roll heavier clothing to create a down layer. If you intend on packing any liquids, make sure you have securely sealed them off to prevent spills or breaks.
Next, roll and light clothing like t-shirts and undergarments. Make sure you tightly pack these items to prevent unrolling during the move and make the most of your space. You can always fill any empty spots in your suitcase later with belts, socks, underwear or anything else that could me crammed into any available nook or cranny.
More delicate clothing should either be neatly folded and placed at the top of your suitcase, or hung in a long wardrobe box to prevent wrinkling or any other damage that may occur during your move.
If you're looking for even more suggestions and tips to help you along your way to a stress-free move, visit
https://movevalet.com/blog/pack-your-bags-a-step-by-step-guide-to-folding-packing-infographic
.
Give your move the personalized attention and care it deserves with help from the professional packers and movers at MoveValet. Our personalized moving plans are completely customizable, allowing you to choose the services you need to make your move as stress-free as possible. Discover how MoveValet full-service moving plans can help you every step of the way by visiting
movevalet.com
.