TryMyApps Shares How to Boost App Store Optimization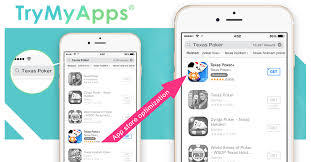 October 29, 2015 - App Store Ranking depends a lot on Publishers' app visibility. With millions of mobile apps in IOS App Store, it is crucial that how hard they try to get their app stood out and discovered by app users in App Store. App Store Search Optimization (ASO) is the main effective marketing method to boost their app rankings. So,the question is how to boost app store ranking!Here TryMyApps Shares How to Boost App Store Optimization
App Store Optimization is the process of optimizing their mobile apps to rank them higher in app store search results. The higher their mobile apps rank in App Store's search results, the more visible app users discover their app. Thus, the increasing visibility tends to convert into more organic traffic to their mobile app page in the IOS App Store.
Among
App Keyword Ranking
, their app name, their app icon, keywords and app quality are four important factors for mobile developers and app marketers to sell their products .
An outstanding app name is to express their app precisely to their users. It can tell the users straight-forward what their app is about, and what is used for. While an attractive app icon is to catch their users' eyes, stimulates them to love it, and intrigue them to explore their apps.
After they have had an outstanding app name and attractive app icon, it is time for they to put their efforts on their keywords. First, you can explore their competitors' apps and analyze their rankings with keywords tools like AppAnnie, SensorTower and MobileAction, to find the best keywords for their app . The goal is for the users not only to find their apps, but also discover their apps even if they are searching their competitors' apps. Second, after they have got great keywords, they need to try to keep their
App Store Ranking
at the top list on those keywords. To boost their app rankings, it is more likely to boost app keyword ranking and get
App Search Optimization
. The effective way is to guide the real users to search and install their app with your targeted keywords in IOS App Store. When their app position increases and remains to the top, more visibility absolutely transfers into more potential users.
Besides, when they have got higher app rankings in app store and more app users have come.They probably need to focus on their app quality. Listen to their app users' feedback and improve those worth. Also, do not hesitate to request their loyal users to give them 5 stars ratings and post a good review for their apps.
In all, publishers can boost their
App Store Optimization
with the tips above,Meanwhile, trymyapps.com offers them the great service.