Corporate Finance Associates Advises National Technologies in Recapitalization with O2 Investments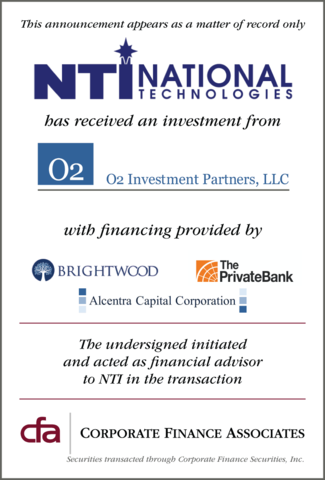 November 3, 2015 -
Corporate Finance Associates, Inc.,
an international investment banking firm providing merger, acquisition and financial advisory services, is pleased to announce that it was the exclusive advisor to National Technologies (NTI) on its Recapitalization with O2 Investment Partners.
Founded in 2009, National Technologies is a best‐in‐class provider of specialized fiber optic technical services. Headquartered in West Chicago, IL with an additional office in the Washington DC metro area, NTI provides fiber optic splicing, testing, connectivity and data center build‐outs to some of the world's highest volume users of data transmission and storage.
Brian James, founder and CEO of NTI commented, "I wanted to find a partner who would support my vision for this business and help me bring it to a national level, with a national footprint. The goal is to be able to service our customers 24/7 anywhere in the country. O2 understood this from day one and began working with me to put steps in place to accomplish this, even before we closed the deal."
The Chicago office of CFA, acted as the sole advisor to NTI, which included mergers & acquisitions advisory services and financial expertise throughout the entire phase of the sale process. The transaction was led by
Joe Contaldo
, Managing Director of the CFA Chicago Office.
Financing for the transaction was provided by Brightwood Capital, The Private Bank and Alcentra Capital.
About O2 Investment Partners
Based in Bloomfield Hills, Michigan, O2 Investment Partners is a Midwestern based private equity firm that seeks to acquire a majority interest in lower middle market manufacturing, niche distribution, and select service and technology businesses. The firm invests in businesses with earnings growth potential and a clear path to the creation of shareholder value. More information is available at
www.o2investment.com
.
About Corporate Finance Associates
Founded in 1956, Corporate Finance Associates is one of the largest and most experienced middle-market M&A advisory and investment banking firms in the nation. CFA has offices across the United States, Canada, and India, with partner offices in Brazil, China, and throughout Europe. More information is available at
www.cfaw.com
. Securities offered through Corporate Finance Securities, Inc., member FINRA and SIPC.
Email Corporate Finance Associates