Make Sure Your Expansion Joints are Designed to Stand the Test of Time with Help from Badger Industries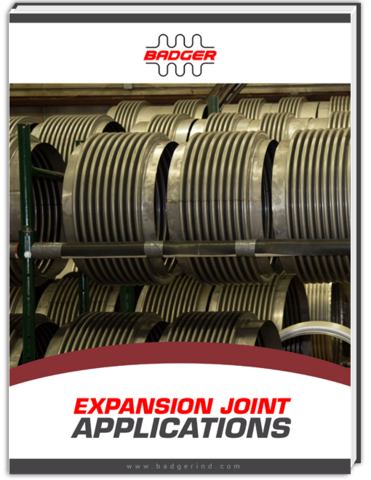 November 4, 2015 - Metal bellows expansion joints are highly engineered, flexible devices which are directly integrated into fluid-handling equipment such as pipelines, ducts, and pressure vessels. However, several things can go wrong if you don't work with a certified expansion joint manufacturer. Make sure you know everything there is to know about your expansion joints from design and fabrication to testing and quality assurance with help from Badger Industries.
Primarily, the purpose of expansion joints is to protect the equipment from bending, twisting, and other undesirable motion by compensating for the dimensional changes which occur in these systems during operation. More often than not, these changes occur due to the thermal pressures applied within a system, resulting in the expansion or contraction.
Using the right expansion joints, you can effectively absorb these motions and better handle the internal pressures applied to your system. The flexible component at the heart of every expansion joint is the bellows, a corrugated cylinder constructed from high-quality sheet metal to meet your specific operational parameters.
If your project is in need of metal bellows expansion joints, it's crucial that you make your arrangements at the beginning to avoid having your expansion joints becoming an afterthought. Each part of your expansion joint is designed, priced and manufactured on custom basis, so making sure that you work alongside an expansion joint manufacturer from the beginning is a must in order to produce a reliable product for your system.
Each expansion joint manufacturer has a unique set of capabilities and limitations in regards to fabrication, but each is bound by a select few codes and standards that govern the design of expansion joints. Certain design rules have been set forth to help ensure that each manufacturer predicts the performance of their expansion joints in a consistent manner. Some codes also require non-destructive testing to be performed, additional documentation to be provided, and a 3rd-party inspection to be performed, in order to ensure additional traceability and accountability.
If your system is in need of metal bellows expansion joints in order to work more efficiently, discover all there is to know about expansion joint design and fabrication by visiting
http://www.badgerind.com/offers
.
At Badger Industries, our goal is to safely manufacture products of the highest quality that exceed our client's expectations time and time again. For more information on how Badger Industries can assist you in your metallic and fabric expansion joint manufacturing, visit
www.badgerind.com
.